Traveline Scotland and the Glasgow 2014 Commonwealth Games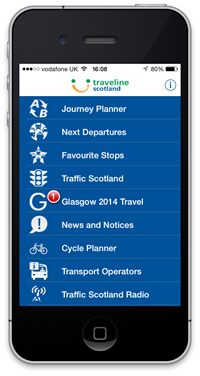 The Glasgow 2014 Commonwealth Games was the largest multi-sport event hosted in Scotland for decades, with over 1.2 million tickets sold; more than 600,000 visitors to Glasgow; and some 261 events taking place across its 11 days.
With no spectator car parking available at any of the 13 Games venues, the event organisers tasked Traveline Scotland and Trapeze with developing a travel planning solution to assist spectators making public transport journeys to and from the Games.
For Traveline Scotland, the Games represented a unique challenge, explains Manager Stuart McNeill: "We regularly plan for large events, but the difference here was the number of venues we were dealing with at the same time; and specific requirements such as Games shuttle buses and services."
"For an event like 'T in the Park' we undertake modifications relating to specific registered services and provide information for those going – but the Games also included a lot of on-road disruption so it affected many more passengers," Stuart continues.
For three days, cycle races and marathon events meant most city centre streets were closed to all traffic including bus and coach services. "The extent of the closures was unprecedented. We had to gear up for that using special messaging, or potentially face a loss of confidence from both visitors and our regular customers," says Stuart. "So basically, for three days our normal journey planning algorithms went out the window!"
The Games Solution
The Games presented a number of unique requirements, most notable of which were an exclusive Games shuttle bus mode to enable buses to be offered to ticket holders attending some Games venues; and a "venue picker" to ensure spectators would be taken to the preferred stops at venues, and improve user friendliness of the solution.
However, Stuart reveals shifting requirements were even more of a concern: "Some final Games transport arrangements weren't finalised until days before – this has a knock on effect, because if just one single bus stop alteration is incorrect, it can impact on journey plans and could result in someone missing their event. So we had to be able to make changes very quickly."
Interestingly, the above paragraph is notably similar to the experience of South Yorkshire PTE, when organising passenger information during the Tour de France.
Planning
After consultation, a solution was agreed and a small project team was assembled between Traveline Scotland and Trapeze. Development was complete within six weeks, ahead of a '50 Days to Go' press launch event.
"Implementing so many changes across all of our web and app channels was demanding for everyone involved, but tight deadlines were met," Stuart recalls. "As the Games approached, we were comfortable with our preparation but also aware that some challenges remained, such as coping with high visitor demand for the service."
To mitigate against a late surge in demand for this information, details of the major route changes during these events were posted as early as possible on the website, app news feeds, and into the journey planner directly using Trapeze's Situation Management System. "This proved invaluable in raising the visibility of the disruption, which directly affected over 70 routes run by multiple operators over the three days in question," Stuart reveals.
As a result, passengers received the same detailed diversion details regardless of the channel being used, says Stuart: "Last-minute tweaks to road layouts and route diversions arrived by email just hours before road closures were due to take place, yet updated information was fed into the system and made instantly available to call centre agents and the public."
Resilience
System capacity was of course an identified risk: "We always aim to cope with moderate spikes in demand, particularly during winter bad weather, but there were many 'unknowns' concerning anticipated demand during the Games," says Stuart.
Additional capacity was installed prior to the Games: "The greatest increases in demand for journeys started to occur just two days before the Games Opening Ceremony," says Stuart. "On Monday 21st July there were over 100,000 website and app user sessions, compared to 44,000 a week earlier."
Once the Games began the systems coped admirably: "Some further minor tweaks were made to systems during Games Time itself to cope efficiently with the jump in user demand, but the flexibility and speed of response by Trapeze's customer service team meant issues were resolved in hours, and had little visible impact to most customers," Stuart concludes.
Statistics
During the Games more than 2.2 million individual customer contacts took place across all information channels; some 1.4m journey plans were created; and the Traveline Scotland apps were installed by new users over 22,500 times.
The Traveline Scotland website (67%) proved the most popular information channel, followed by Smartphone apps (30%) and call centre (3%). The busiest day was Sunday 27th July, where over 120,000 combined visits and calls were logged – yet system uptime across the period was 99.98% with page loading times under two seconds on average.
Conclusion
"Our part of this project was made possible by the knowledge and experience of Trapeze project planners and the flexibility of Trapeze customer service staff at Games Time itself," says Stuart. "Additionally, we would not have delivered without the help and close co-operation of Transport Operators, Transport Scotland, SPT and our call centre provider Teleperformance."
"Games organisers were keen spectators leave Glasgow 'remembering the sport not the transport' – the theory being that journeys were made easily, from finding information through to arriving at the venue." Stuart concludes. "I think we helped the organisers achieve this outcome, by playing our own small part in what was a fantastic success for Glasgow and Scotland."
"Implementing so many changes across all of our web and app channels was demanding for everyone involved, but tight deadlines were met,"
– Stuart McNeill, Manager
(c) 1999 – 2019 Trapeze Software ULC. All rights reserved
Trapeze Group respects your privacy