Taking off: Charting New Territory with Menzies Aviation
While Real-Time Passenger Information (RTPI) technology is often thought of as a tool to increase urban bus ridership, its potential extends far wider than that. A great example is the increasing adoption of RTPI as part of airport transport infrastructure.
And of course when it comes to airports, they don't come much bigger than London Heathrow: with more than 200,000 passengers passing through each day, the Heathrow is practically a city in itself!
Obviously, an airport of this size requires a high-quality internal transport system for both passengers and airport staff. Managing this type of infrastructure is no mean feat. We met up with Dave Robinson, IT Project Manager at Menzies Aviation, to find out what's involved.
A real success story
Menzies Aviation has been providing shuttle bus services for Heathrow staff for some 13 years and having been awarded the contract on three successive occasions, it's clear the company is doing a great job.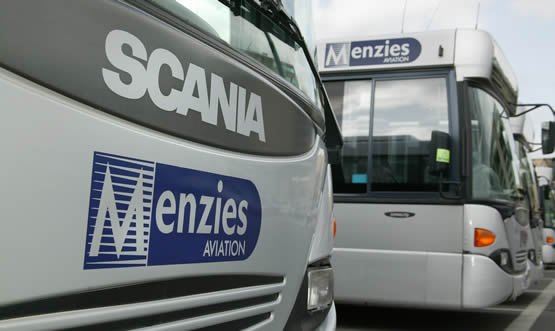 "Our business ethos has always been based on the 'MORSE' principle," Dave explains. "This stands for 'Menzies Operating Responsibly Safely and Effectively', and it's the centre of what we do. We consistently aim to deliver an entirely predictable, safe and reliable operation that meets this objective."
Having successfully managed staff transfer operations, Menzies has also now been awarded the contract for commercial services – providing shuttle bus transportation to Heathrow passengers.
"It has been fantastic to grow the business into the commercial passenger side," Dave says. "And it's been built in part around the way we utilise modern technology. One of the main reasons we were awarded the contract was because of the Trapeze vehicle and tracking products we were using."
The starring role of technology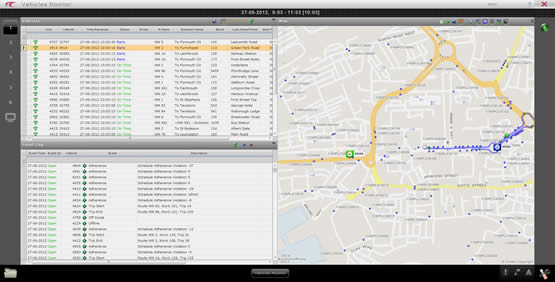 Screenshot of Vehicles Monitor – part of Novus-RT
Speaking with Dave, it is fascinating to learn the starring role technology has played in accompanying Menzies' continued rise. "Alongside the critical priority for ensuring safety and security at all times, another vital part of our operations is providing services that reduce emissions and give passengers a pleasant environment on reliable services," Dave explains.
"This is really where Trapeze's Novus system is instrumental because it helps us regulate the frequency of services, minimising bus idle times; and meeting passenger expectations while saving resources."
Clearly, carbon emissions from airports have been an area of public interest in recent years, so it's interesting to note that Menzies has been using technology to address this too.
"Novus' vehicle monitoring is critical in terms of fuel efficiency; it helps us reduce carbon emissions, which is so important from an environmental point of view," Dave explains. "Our long-term strategy focuses on fuel efficiency through driver training, and because Novus enables us to monitor our drivers, we have seen an immediate, huge improvement in the way our drivers are performing since implementing the system."
Novus in action
Adopting Novus has also had a significant impact on the back office: "One of the really great things about Novus is that it is web-based," Dave explains. "This means it is easily accessible for users, who find it easy to understand and to use because it has a great interface."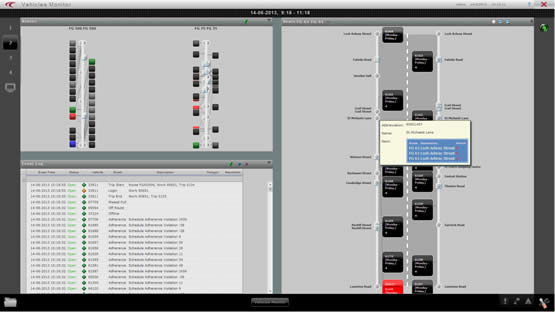 Example of the Novus-RT Interface
"It has been interesting to note how our internal processes have improved since we have been using Novus," Dave continues. "It is easier to act upon issues such as timetable anomalies because we can see both real-time and historical data – this reduces the cycle time for decision making when resolving issues."
"We can pull up data as and when we need it – for instance, in meetings – and implement a resolution strategy there and then. It has allowed us to really optimise what we do and how we work."
Optimisation is a theme of our discussion with Dave, and it is clear that this is a key factor in Menzies' continued expansion over the last 15 years. "Optimisation is so important," Dave insists. "And the Novus system helps us take our optimisation strategies that much further – it provides an effective means of viewing our operations, which is absolutely critical here."
"Our investment in Novus has been absolutely justified," Dave concludes. "It is the best platform for managing our fleet."
The benefits for the passenger

Of course, Menzies Aviation are also committed to providing the highest quality service for passengers who use Menzies buses on a daily basis. Here, too, Dave explains that technology is vital: "The Novus system's passenger counting is really important," Dave says. "Because our shuttle bus services are non-revenue based, we need a means of accurately identifying how many people are on each of our buses at any particular time."
"Trapeze technology enables us to quickly review real-time and historical data to understand how passengers are using our services, which means we can tailor our services to meet demand: for instance, by modifying timetables to reflect peak times," Dave adds. "And of course more generally, the system means we can consistently provide reliable services that provide customers with fast and convenient transfers around the airport."
Looking to the future
And Menzies Aviation does not believe in resting on their laurels: The commitment to ensuring passenger satisfaction is a key part of Menzies Aviation strategy when it comes to planning future projects.
"We are always looking to improve customer experience," Dave says. "One exciting project we are looking to implement is the installation of visual display units which would fit on the buses, providing passengers with relevant information such as updated flight information."
The potential of these visual display units – as seen elsewhere around the UK could also bring some added benefits to Menzies Aviation, as Dave explains:
"Once installed, we can look at realising advertising revenue," he says. "It would potentially be a prime piece of advertising space, so it's exciting to see how this develops."
Leading the way on solid foundations
Menzies Aviation looks set to continue its leading role in transforming the way that airport transport is provided. But of course, this kind of success doesn't occur without good foundations – and in this instance, that means a strong team with good understanding of what it takes to deliver quality airport transportation and flexible technology that can accommodate operational requirements.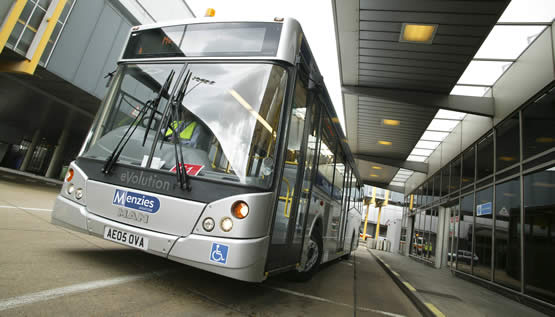 But it also relies upon positive working relationships with technology suppliers, as Dave explains: "We have a very good relationship with Trapeze; in my six years in this role I've worked closely with Trapeze's project managers, and they always ensure the service we receive is excellent. In this kind of environment, that's exactly what you need."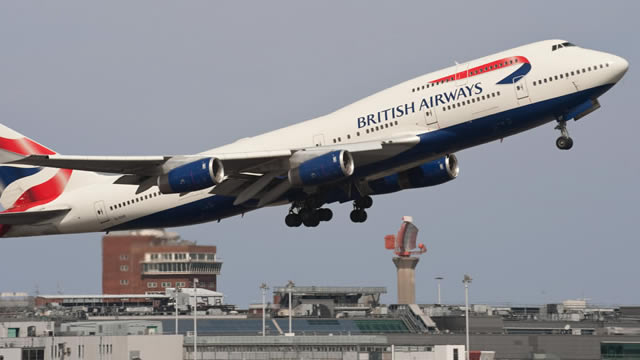 (c) 1999 – 2019 Trapeze Software ULC. All rights reserved
Trapeze Group respects your privacy