Case Study: Singapore Land Transport Authority (LTA)
Turnkey ITCS solution providing common management facilities
In March 2014 Trapeze were awarded the contract in Singapore to implement a new fleet management system for the Singapore Government Agency LTA (Land Transport
Authority).
LTA are undertaking a massive reorganisation of the way public transportation is funded and delivered in Singapore. They are changing from an operator led, revenue based, service delivery model to a model where the operators contract with the LTA to deliver services to a defi ned quality level.
During 2016 two additional operators have been introduced into the Singapore environment. The Trapeze system is at the heart of this reorganisation providing a common bus quality management and monitoring platform across all operators with facilities for LTA to monitor and measure the performance.
The functionalities
Intermodal transport control system type LIO
Integrated voice over cellular voice radio
On-board computer, integrated 9 port network switch
Interface to existing GPS location device and data transmitter
Fallback communications through internal modem
Map matching and satnav functionality for Bus Captain
Bus Captain user interface in English and Mandarin
Importing data supply from multiple operators
Recording of all trips and events with reconciliation and operational quality statistics
User and ad hoc reporting capabilities
The system at a glance
Control centre
Hosted system with disaster recovery site using virtualised environment
Dedicated operator workstations and LTA overview workstations
Support for 300 interactive users
Radio system
Redundant data communications over VPN using LTA data transmitter and integral modem
Voice communications via VoIP over cellular using enhanced codec
Vehicles
Initial rollout: 5400 vehicles with expansion capability
Dynamic Passenger Information
Feed to the LTA real-time bus dissemination system
Predictions generated using dynamic statistical history-based prediction engine
Depots
Support for WPA2 Enterprise WLAN in depot with MIMO
Automatic failover to 3G where WLAN is not available
Equipment interfaces
VDV, Ethernet, J1708, CAN BusFMS and digital IO
Software interfaces
Interface to operators' real-time bus dispatch systems providing external trip adjustment capabilities
SIRI interfaces
Support and Operations
24/7 third level support provided to LTA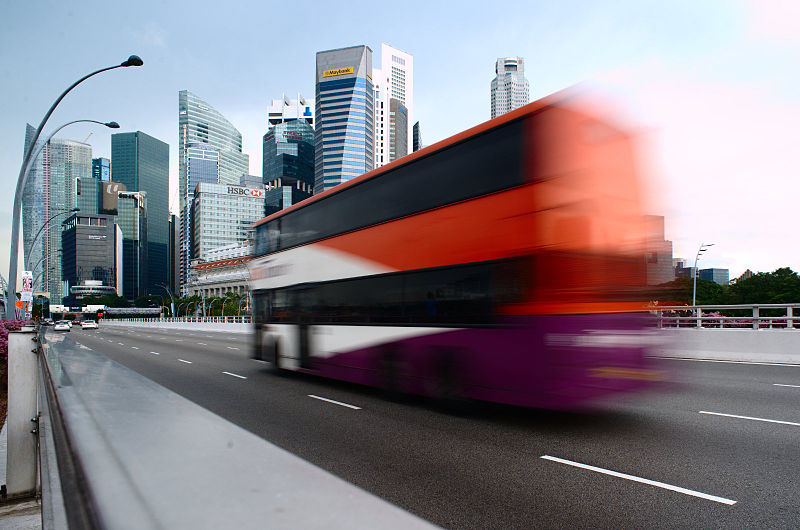 (c) 1999 – 2021 Trapeze Software ULC. All rights reserved
Trapeze Group respects your privacy