Pursuing Perfection in Public Transport with Aberdeenshire Council
"We need to innovate; not because we want to be first, but because we want to be the best. We want to find ways to meet and then exceed customer expectations. So we use technology to innovate – but in the right way."
As rallying calls for delivery of public transport go, that's an impressive statement of intent – but then, Aberdeenshire Council's Martin Hall and his team are doing impressive work, as we quickly discover on our visit to the council office.
But perhaps most remarkably of all – and this is not a message you hear every day – this is a transport department that is actually expanding through this era of austerity. We paid a visit to find out how.
The setting for our meeting is the council canteen – a more glamorous location than you might imagine, featuring stunning views over countryside and the city of Aberdeen, and out into the North Sea.
As Principal Officer for Information and Infrastructure in Aberdeenshire Council's Public Transport Unit, Martin Hall manages the publicity and marketing of bus services. His team is one of four within the council's PTU unit (others are the Local Bus Services team, DRT and Fares team, and Client Transport team).
As already mentioned, while so many UK Local Authority teams are shrinking, the team's remit is actually expanding, having recently grown from four to five team members. Though it is tempting to assume this is due to the relative affluence of the Aberdeenshire area, we quickly realise that would be a mistake.
A Platform for Expansion
"We have the same challenges as other areas; we are facing budgetary pressures, and the concept of 'spend to save' is nothing new: we've had to justify every piece of procurement the entire six years I have been here," explains Martin. "We are expanding because we're taking on more work, working with neighbouring authorities, where the operators want us to replicate the success we have had in the shire with roadside public transport information and are providing funding to achieve this," he says.
Inspired by the success of the expansion of the roadside publicity and with a desire to share resources, Aberdeen City and bus operators are interested in seeing the RTPI system expanded to include bus services in the City. Ordinarily such a project might present a significant headache, but fortunately Martin and the team built expansion capacity into their original plans, and embraced a flexible modular technology solution – more on this later.
But this kind of expansion doesn't tend to occur without good foundations – and in this instance that means a strong team with good understanding of what it takes to deliver quality public transport information, and flexible technology that can accommodate the new requirements.
The success Martin refers to is the previous implementation of a Trapeze real-time information system throughout the Aberdeenshire area. "It has given the public confidence in the service and the ability to plan their journeys more effectively," he explains. "But it also offers security because people aren't left standing at bus stops late at night as they know when the bus is actually going to leave their bus stop."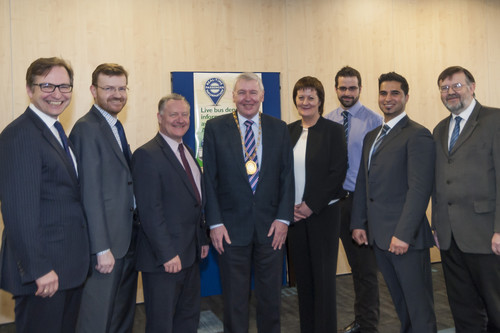 Members of the RTPI Launch party
Driving Modal Shift
But for now let's return to the fact that this is a relatively affluent area, which of course presents a particular challenge for those with a remit to promote public transport: affordability of car ownership. "Aberdeenshire has one of the highest car ownerships in Scotland. We have a lot of congestion and not enough effective bus priority," Martin explains.
How do you get people to use the bus in such an environment? "We are giving customers the tools they need to make better choices, but you have to get the basics right: things like frequency, reliability and the cleanliness of the vehicle," Martin explains. "Our objective is to enhance the entire public transport experience and ensure the best possible experience to our customers. We can only achieve this by working in partnership with our neighbouring Local Authorities and bus operators."
Customers, Not Passengers
Throughout our discussion it is notable that Martin uses the term 'customer' rather than 'passenger', which we discover is not accidental: "Our team's mission statement deliberately focuses on putting the customer first," he explains. "Passengers are just numbers; customers are people whose needs we must meet. There's a big difference."
Delving further, this emphasis on delivering the best possible service is a core objective that resonates through the entire council, not only the PTU. Indeed, every office wall has a printed statement proudly promoting the ideal of creating the best area and council.
And as far as public transport goes, satisfaction surveys indicate the initiative is succeeding: "Our surveys show that our customers are satisfied with the service provided, with satisfaction levels higher than the national average," Martin reveals.
But of course there remains the familiar problem of how to convince non-regular users to give the bus a try. The same surveys that show high bus user satisfaction also reveal the extent of the challenge: "There's a gulf between the perception of bus travel by users and non-users," Martin explains.
Technology's Role
Unsurprisingly, technology is a central part of the plan to change all this, with Aberdeenshire having implemented Trapeze's Novus solution to manage not only real-time information, but also fixed route data management, publicity production and a new web portal that shows live departure boards around the shire.
Though the different Novus systems can stand alone and in Aberdeenshire's case were procured in stages, they combine to form a single Novus suite with one shared information database. This simplifies implementation, but the most important benefit relates to the shared data: "A single database ensures quality of data," says Martin. "I believe the source should always be the operators' data; we take it and enrich it, but we don't change or manipulate it."
The single Novus platform is pivotal for the potential Aberdeen City expansion: "Most "Aberdeenshire" journeys originate in Aberdeenshire and end in the city or vice versa," Martin explains. "The customer wouldn't expect different quality of information, and we need to present them the information they need in a familiar, consistent format. It's not going to happen if we're using three or four different systems."
Don't Overlook Printed Publicity
Intriguingly, while modern elements such as real-time and Aberdeenshire's slick new responsive web portal – which means it dynamically adapts to fit different screen sizes, from PCs to tablets and phones http://rtpi.aberdeenshire.gov.uk/#/liveDepartures – naturally garner the major headlines, Martin also attaches significant importance to the printed publicity module, Novus-Publish, which has delivered huge time savings in terms of timetable production
"It is faster, more automated, and offers fewer opportunities for mistakes," Martin says. "But it can also remove elements when there's not enough room to display them; so it will automatically add a map if there's space, and leave it off if not. Normally automation means reduced flexibility; this is a big change."
The result is a set of stylish and branded Aberdeenshire outputs incorporating local maps and QR codes for accessing live departures. But isn't all this emphasis on printed material a little old outdated now?
"In the past I might have questioned it myself, but we just endured a service change where some information come in late – and we had a huge number of calls as a result," reveals Martin. Perhaps surprisingly, the dynamic of those calling was diverse, including young and old: "It underlined the importance of roadside materials in terms of providing comfort," Martin concludes.
At this point our discussion shifts to the ways in which printed publicity is blurring the lines between schedule and real-time information through use of QR codes that can be scanned to obtain live data. Aberdeenshire were actually early adopters of QR Codes some four years ago: "We're a large rural authority; we can't have screens at every stop so we had to find other ways to inform customers," Martin explains.
"And with our new website (delivered via Trapeze's Novus-Live Travel Suite) we can now offer customers the ability to plan their journey wherever they are. At-stop signs are great, but they can't help you pre-plan a journey because you don't see them till you're actually at the stop," Martin concludes.
Effective Innovation
As indicated by the early QR Code adoption and willingness to embrace the entire Novus suite, technological innovation is at the heart of the council's activity, but Martin insists it must be done in a way that is right for the customer: "Our objective is to be the best, and to achieve that you need to innovate; not because you want to be first, but because you want to find ways to be more effective and efficient," he says.
"It's never about innovation for innovation's sake: We chose not to create mobile apps to utilise our data because it's better to just make the data open source and let others do that. What we do is aim to meet and then exceed customer expectations. So we use technology to innovate, but we do so in the right way."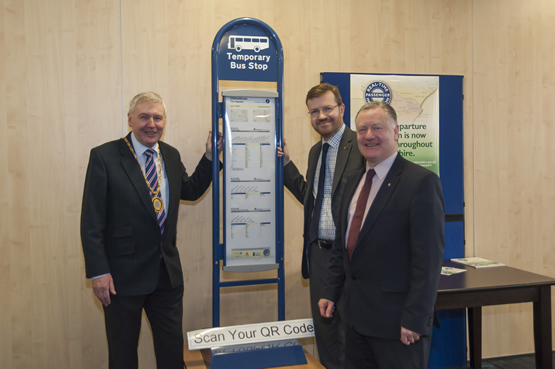 (left to right: Provost of Aberdeenshire Hamish Vernal, vice chairman of the Infrastructure Services Committee (ISC) Stephen Smith, and ISC chairman David Aitchison at the launch of Aberdeenshire's Real Time Passenger Information system)
A Progressive Approach to Partnership
Throughout our discussion, partnership is another recurring theme, both in terms of working with local stakeholders and operators. "We were the driving force for the initial real-time installation in Aberdeenshire, but it would never have happened across the whole area so quickly without operator buy-in," Martin explains.
"Of course, this didn't happen overnight; we've been building relations for years. Real-time has a clear benefit to customers, and if that's the case then there's also a benefit to the operators. So we all have a common goal here."
This sense of a common goal can be clearly seen in the Grasshopper Pass, a multi-operator ticket that covers travel in the Aberdeenshire area on any of the 14 participating operators' buses. Though the initiative was led by the operators, Aberdeenshire Council have assisted discussions in the role of administrator while Aberdeen City Council and Nestrans, the Regional Transport Partnership, have also supported the initative.
And this partnership approach also extends to suppliers such as Trapeze, who not only support delivery of fixed route services via the Novus suite, but also provide the PASS system that manages operations of the Demand Responsive Transport team.
"We function as partners; our contacts at Trapeze are as enthusiastic about delivering quality as we are," Martin explains. "We asked Trapeze to set up a working group each year to focus on improving our system, and they actually proposed two. I appreciate that because we need a supplier that is really on board with what we're doing."
And of course it is also beneficial to Trapeze to have such a proactive, quality-driven client. "We want to understand the system. I'm not interested in being a passive user; I want us to get the most out of the technology", Martin says. "When we have an issue, we don't just call support to have it fixed; we find out what happened and why. I want to know if it's our fault so we can ensure we don't do it again."
"We need to look at ourselves first. Are we doing our bit? Is the system set up OK; is it up to date? We don't raise many support calls, but when we do, we ask, 'was it us?' so we can understand the system better," Martin continues. "We have a very good working relationship and Trapeze have some excellent support staff who support and educate my team."
This positive approach to learning extends to training, user groups and also the annual UK Conference. "I send as many team members as I can," Martin insists. "Trapeze and Novus are the centre of everything we do. Why wouldn't we learn as much as we can?"
Next Stop: The Future
Looking further ahead, the focus is again on technology. While a major advantage of transport technology is of course its ability to save time, Martin raises an interesting point about embracing its functionality: "Novus saves a huge amount of time through automation of procedures," he says. "But it has also created some new tasks, because we haven't implemented a real-time system and then left it. We want the best real-time system; and for that you need to interact with it, update it, and use it push out information. And we need to engage with operators to ensure they're getting the most out of it too."
"We are getting the foundations in place and then we need to build," Martin explains. "The Novus system is the platform; not the end goal. We're focused on the things customers are expecting – and also those they're not."
"So that means better qualitative information; better information relating to disruptions; and more personalised information. We want to let customers choose what they receive; we don't want to dictate information; they should choose what they receive and when."
Upon departing, we decide to put the technology to the test. A glance at the Aberdeenshire web portal indicates the 23 service is required – with a bus set to arrive in either six or 13 minutes.
Our vehicle arrives right on cue and is indeed frequent, reliable and clean. So it looks like Aberdeenshire and their partners are getting those basics right – but then, of course, we never doubted it for a second.
UPDATE: Aberdeenshire Council was named Local Transport Authority of the Year at the Scottish Transport Awards 2016.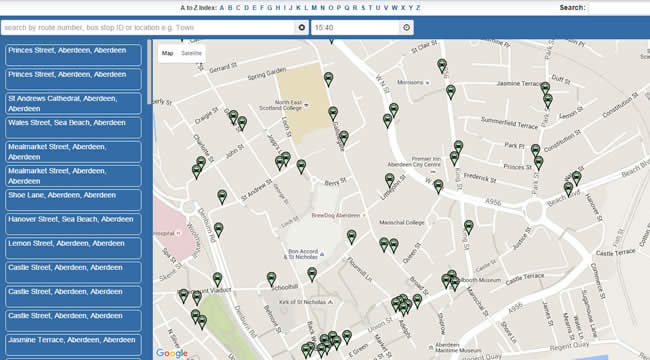 Aberdeenshire Council Live Departures Website
(c) 1999 – 2019 Trapeze Software ULC. All rights reserved
Trapeze Group respects your privacy