North East Lincolnshire Reaps Benefits from Flex Routes
Trapeze has been actively working with the Phone 'n' Ride Service in North East Lincolnshire for a number of years with the aim to improve the efficiency of Demand Responsive Transport (DRT) in the area.
Through a process of consultation and the implementation of 'Flex' routes, the service has simultaneously improved service levels to the public while also making financial savings and improving service efficiency.
Consultation to Improve Schedules
This process started with a review of road speeds to ensure Trapeze's DRT scheduler was able to make informed assumptions regarding traffic flow around the service area. This review considered areas including dual carriageways where vehicles travel at the national speed limit, and more heavily congested areas, such as the Diana, Princess of Wales, Hospital in Grimsby. Additionally, analysis of loading times was used to accurately recognise the time required to get people on and off vehicles – particularly at busy locations such as supermarkets.
Lesley Jamison, Transport Officer at ENGIE, said: "These changes have enabled the service to implement more accurate and efficient schedules, ensuring our services run on time."
Combining Flex and Fixed Routes Alongside Google Transit Integration
Alongside the schedule improvements, Phone 'n' Ride also reviewed service provision based on the availability of alternative public transport across the service area. In areas where public transport options are limited the service has introduced 'Flex' routes.
Flex is an emerging mode of transport whereby trips can still be booked via the Booking Team, but passengers can also board at specific points along the route without a reservation. These types of services are well suited to rural areas where buses do not run frequently.
By combining Flex with traditional fixed-route bus services, North East Lincolnshire Council and ENGIE have begun to see a real impact on passenger numbers. The team can now react to changes in real-time, ensuring they maintain service levels to passengers.
Lesley added: "Where alternative transport is available, we allow scheduling on mainstream bus services via integration with Google Transit. If a fixed route journey is available to cover a client's needs, this will be prioritised over a DRT route. This increases our capacity for clients who genuinely require a DRT service.
"Our system ensures that passengers are kept updated. The team can identify where a driver is running late and allocate the trip to another driver in the area – further improving the efficiency of the service.
"We have seen a reduction in complaints following these changes, and we know our passengers prefer being able to manage their own journeys."
Reacting to the COVID-19 crisis
When Government restrictions were first introduced Phone 'n' Ride was able to respond rapidly and temporarily suspend the service. 
Lesley commented: "As service resumed, Trapeze supported the service by quickly changing vehicle capacities to allow for social distancing. With transport demand increasing as lockdown restrictions are eased, the service remains confident that the system has been optimised, providing even greater confidence in the scheduling."
Phone 'n' Ride is supported by North East Lincolnshire Council and managed by their regeneration partner, ENGIE.
To find out more about Flex routes or how to increase efficiency within DRT operations, please get in touch.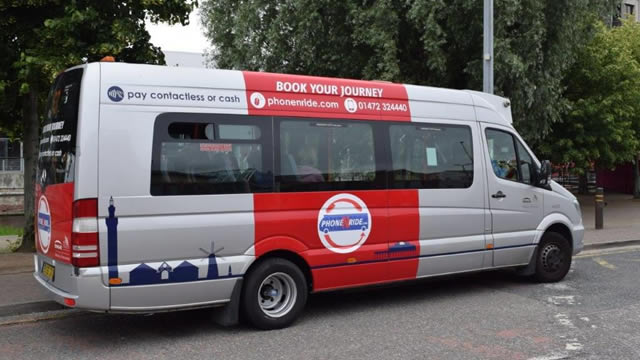 (c) 1999 – 2020 Trapeze Software ULC. All rights reserved
Trapeze Group respects your privacy