Maintaining Standards: the Importance of Driver Training
We all know how important driver quality is to a bus operator. Good drivers ensure safety for drivers and passengers; they maximise fuel efficiency, and adhere to schedules – ensuring passengers are not left waiting by the roadside, and get to their journey destinations on time.
The flip side, of course, is that poor drivers pose safety risks, drive inefficiently, and are liable to run late – disrupting schedules and proving a poor quality service to passengers. Studies show that poor driver behaviour is one of the key reasons people stop using buses – or perceive bus travel negatively.
Driver training is therefore fundamental to any operator – which is why we visited  National Express West Midlands – a valued customer of Trapeze – and travelled to the company's driver training centre in Walsall to meet Pat Hughes: a long-time bus driver, much-loved by passengers during his time in the driver's seat; and now an integral part of National Express' driver training programme.
The traits that made Pat such a good driver are obvious the moment we arrive. His enthusiasm and kindness are evident in abundance as he welcomes us into his office, where we learn how his career has developed over the past five decades.
A bus man's journey
Working first as a conductor when he arrived in England from Ireland in 1966 at age 18, within three years Pat was in the driver's seat; a position he held for a further 37 years.
Since 2006, however, Pat has been looking after INOVAS – a precursor to Trapeze's Novus-Driver Training system – which enables drivers to virtually run through new or changes to bus routes before actually driving them, complete with warnings of areas where other drivers have encountered issues.
The director's cut
Pat is responsible for filming all the bus routes operated by National Express in the West Midlands, then editing the video and adding commentaries for the driver training software. "When I get news that a route is changing I go out and film it, edit the video and add commentary, then upload it to INOVAS," Pat explains.
Pat makes it sound simpler than it is. Because with 10 garages throughout the West Midlands, 300 bus routes and 4,000 drivers, ensuring all route videos are up-to-date, and each training machine at every garage has the current routes available to all drivers is no mean feat.
Indeed, Pat's job is not without challenges. He tells us that perhaps the biggest problem he faces is the great British weather: "The two main problems we have are raindrops on the camera lens or else glare from low-hanging winter sunlight. It can be quite frustrating – it's certainly weather dependant!"
Despite this, Pat's passion for his role is unrelenting: "I love the job," he explains simply, adding that the job also complements his hobby for film-making back home.
Evidence of this passion is found throughout Pat's office, which is filled with the DVD copies and accompanying notes on every route. Every commentary bears his signature; every video bears his mark. Pat is a part of INOVAS just as INOVAS is a part of Pat: every video and every file is a testament to his hard work and achievement – but also to the high-value National Express places on driver training.
High standards
The training process is intense, involving written and practical tests on a variety of topics, including health and safety. "It can take months", Pat says, explaining how, in the run-up to the final exam, new recruits must go through a gruelling 11 days of intensive training to prep them for the big day.
But training doesn't end here, because newly qualified drivers are assessed again after their first 45 days out on the road, and then, subsequently, assessed each year after that. Standards are high; but with the responsibility for the safety of passengers, road users and the drivers themselves, they have to be.
INOVAS is integral to the training process, as Pat explains: "it's very handy for drivers so they can use the software when a route changes and watch the video of the route and they can familiarise themselves with it. It's about helping them get to know a route before they drive it, so they feel confident when they come to do so in real life."
This may explain why the software is so well-used – and so well-loved – by so many National Express West Midlands drivers: "One told me that he'd learned every bus stop on the INOVAS system," Pat says. "Some drivers absolutely love it and will pore over it, using it all the time."
It's not just trainee drivers that use INOVAS, either. Qualified drivers – and even driving instructors – use the system regularly, in order to refresh their knowledge of routes and maintain the high standard of driving expected of them.
For example, Pat's colleague, Steven explains: "I can go out and refamiliarise myself with any routes as and when they change – or if I'm taking a trainee driver out on a route I haven't driven for a while, INOVAS just lets me quickly brush up on what to look out for on the roads."
Safety first
In his role, Pat always has road, vehicle, driver and passenger safety at the forefront of his mind: "Safety of passengers is the first priority," he says. "If a driver isn't properly trained, the consequences are potentially catastrophic."
"If I can save one accident or if I can highlight areas of danger I feel happy," Pat says. And while it is, of course, impossible to quantify how many accidents Pat has prevented, he is confident it has been a significant factor: "I feel sure the use of INOVAS has raised standards of driving and has increased our safety record," he says.
A key to safe driving, Pat believes, is remembering to relax in what can be a very stressful environment: "I always tell the drivers: 'if you're running late, remember to drive safely,'" he says. "It's about learning to relax. So I tell them not to get stressed out – that's when accidents happen. But it also impacts on your life: if you keep letting yourself get stressed, it's not good for your home or working life."
Of course, while Pat can use INOVAS to inform drivers of safety factors – as well as pearls of wisdom on maintaining a healthy work-life balance – Pat knows as well as anybody that there is no substitute for getting out on the routes and actually driving them: "when you're on the same route every day, you learn everything there is to know about it. You can work out sequences of traffic lights and plan around that," Pat says.
Brave new world
There is a certain nostalgic wistfulness when Pat remembers his days in the driver's seat. But these days he's looking more to the present and the future than to the past. Like many of his colleagues, Pat is keenly anticipating the arrival of a new fleet of buses, which will arrive at National Express West Midlands garages during 2015.
The buzz and excitement these buses are generating is stimulated by the cutting-edge technology the vehicles will feature. For example, the new vehicles will be equipped with on-bus Wi-Fi, which is something Pat thinks will definitely increase ridership: "It definitely will. I've no doubt about that. It's what the customers want."
But the new buses also recognise the importance of driver happiness, and the need to reduce driver stress levels. Because of this, the cabin has been designed entirely around driver comfort.
Ever the optimist, Pat is certain that investments in new buses and new technology should be welcomed by drivers – who sometimes view new equipment, like cameras, with caution. "Drivers need to understand that the technology is there to help them, rather than work against them," Pat insists.
Wise words
But exactly how does Pat manage to maintain such a positive attitude to his work and his life? It's a simple rule, as Pat explains: "I was raised to respect everybody. You need to have respect for everyone: we're all human beings. It doesn't matter who you are or where you come from; if you're a rich businesswoman or a homeless man – everyone deserves to be treated equally."
It's a rule we could all learn from. But it's also one that Pat hopes to instil in the new drivers who come in each day to National Express West Midlands' garages. When bus operators have experienced drivers like Pat at the helm, such pearls of wisdom can be passed along, ensuring the new drivers that become the outward face of the company maintain – and perhaps, ultimately improve – on the standards set by those who went before.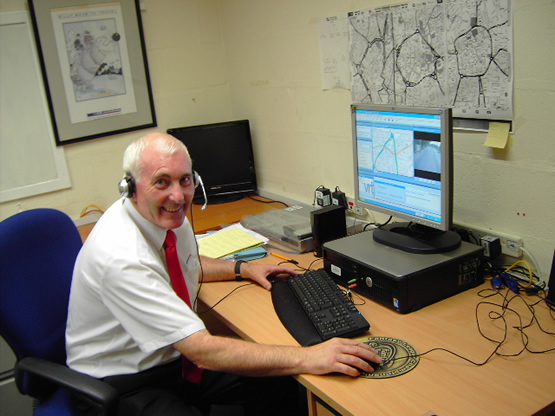 (c) 1999 – 2019 Trapeze Software ULC. All rights reserved
Trapeze Group respects your privacy