Interview with Yorkshire Tiger's John Shepherd
Yorkshire Tiger's John Shepherd is a true industry veteran and DAS expert. Having spent more than 40 years working at a major operator – the last two years of which saw him touring depots across the country to fine-tune their DAS implementation – John was an unsurprising choice when the Tiger management team needed to optimise their new DAS system.
"Trapeze's DAS is a great system, but like any technology it's only as good as the information it can access," John explains. "Given my experience with DAS, I was brought in to ensure it was working as it should."
An Essential Solution – for All Operators
With a fleet of almost 100 vehicles, Tiger is an interesting DAS client because of its size. While DAS has traditionally proven extremely successful in the large bus groups; Tiger's decision to upgrade (from a custom-built spreadsheet system) shows that it is also an essential tool for 'medium' sized operators.
"For an operator like Tiger, the DAS business case comes from payroll," says John. "If payroll is running above budget, the only way to sort it is to use a computer system. When you are using spreadsheets you can't see where you are losing money; with DAS you have a report for every driver and every depot."
"DAS's Pay Value Modification Report shows what duties should have cost and what they actually did," John continues. "With this you can easily see any issues. It's a damn good report; we couldn't do anything like that on the old system."
Advantages
When asked about the advantages of the investment, John responds: "The main thing DAS has brought is accountability, which we never had with the previous system. With DAS reporting it's so easy to spot problems. If a duty should cost 8 hours and actually cost 16, someone probably put two drivers on. Before DAS the team would never find that issue without checking every line of every report. So it's reducing cost and saving a huge amount of time."
That time saving element is crucial, John explains: "Payroll can now be done on a daily basis, which is so much easier. Before you just had so much information to check, and you couldn't highlight RTA (Road Traffic Act) problems – DAS comes in to its own here because it won't let you do things that breach RTAs. The system pays for itself here alone."
"The working hours reporting is also brilliant: I press a button and instantly have all the data I need to give to senior management for budgets. This saves time that was being spent going through spreadsheets, John concludes. "Overall, the difference is that we can all see what's happening. I can look in on DAS and if there is a problem at the depot I can see it and solve it. And if I can't fix something then the DAS team can."
Next Steps
With DAS now successfully operating at all three Tiger depots, John's focus is on ensuring staff are operating it correctly: "I'm working with the team to make sure everything is accurate for payroll," he says. "I'm documenting anything that needs adjusting, and feeding back to the team to improve the process."
"The next couple of months I will be ensuring weekly audits are accurate," John says. "Doing audit, I can spot 99.9% of anything going through to payroll – we can save a lot of money and identify weaknesses here."
With the project almost complete, it is clear that John has done a great job – and all of Tiger are reaping the rewards. However, John is keen to share the credit: "I was supported in this by the Trapeze team – I have nothing but praise and admiration for Pete Adney, Chris Hay, Lesley Johnstone and Nicholas Fletcher in the Trapeze team," he concludes. "The support I've had has been absolutely brilliant."
The success of DAS is built on the hard work of not only our own staff, but also the amazingly talented and committed Superusers like John at operators up and down the country. We salute you all.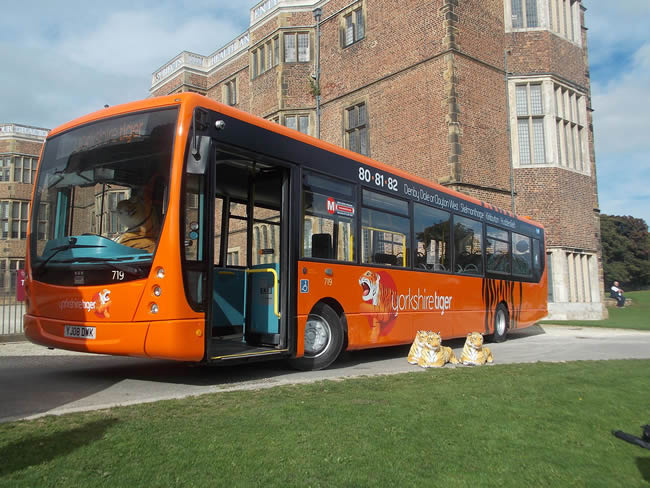 (Photo: HSTJohnny)
Yorkshire Tiger operates local and inter urban bus services across North, West Yorkshire and Lancashire. Its fleet of over 95 vehicles delivers 5.5 million customer journeys each year from depots across the region. Having recently installed Trapeze's Duty Allocation System (DAS), we caught up with veteran DAS Superuser John Shepherd, who has managed the implementation.
(c) 1999 – 2019 Trapeze Software ULC. All rights reserved
Trapeze Group respects your privacy