De-stressing Airside Transfers with Heathrow Airport and OmniServ Limited
It is well understood that passengers find airport travel stressful – indeed, one report famously found that many view it as worse than moving house. Airport stress is caused by a feeling of lacking control – and this is especially true with 'airside' connections, where anxiety is heightened due to the unknown elements of the journey, and the intimidating size of airport complexes
The desire to address airport stress was one of the key drivers behind a recent project designed to provide passengers with easy access to reliable information regarding airside travel within Heathrow airport; increasing confidence in connections and improving passenger flow through the airport.
The Solution
The technology solution, delivered by Trapeze Group, contained three elements:
1. Real-Time Passenger Information
Heathrow and OmniServ required accurate real-time departure boards to enable airside passengers to know when vehicles would arrive. Passengers would thereby feel in control of their journey and be assured of reaching their destination as planned.
2. Location-Specific Information
Passenger experience would be improved through location-specific on-bus media (passengers approaching a terminal building would be shown videos relating to journey time, relevant security measures, or nearby retail options). This would improve the flow of people through the airport, and reduce stress through access to relevant information.
3. Open API for Data Sharing
Inter-terminal bus movements, passenger loadings, and other key data would be sent in real time from on-board equipment to Heathrow's back office team, who could respond to fluctuations in passenger numbers across terminals, diverting resources to further improve the passenger experience.
Project Challenges
The major challenges related to location and scale:
1. Infrastructure and Connectivity Issues
Heathrow is uniquely complex and heavily built up. With two-thirds of airside journeys shielded from GPS (in tunnels or beneath terminal buildings), this presented a significant connectivity challenge.
Indeed, a previously implemented vehicle tracking solution failed because the information was not sufficiently accurate. Trapeze's solution was based upon sophisticated tracking enabling accurate identification of vehicle locations and arrival times, even in tunnels and beneath buildings.
2. Scale and Security
It was not possible to take the UK's largest and busiest airport offline for implementation, so the entire project had to be undertaken within a live environment. Scheduling challenges related to access (works were undertaken overnight or during any available quiet periods) and airport security (any on-site engineers required temporary identification and advance planning).
Project Results
The solution was delivered in partnership between Heathrow Airport, OmniServ Limited, and Trapeze Group. The project was formally completed in May 2018, and already the impact is being felt across all major stakeholder groups.
For Stephen Wilson, OmniServ ITO Operations Manager, the solution has had a profound impact:  "The value of the system is already clear. The technology is working: data screens are accurate and real-time feeds show exactly where each vehicle is located. The positive impact is evidenced by reduced passenger waiting times: the information available to passengers, and our ability to dynamically re-route buses to address surges in demand, have improved service levels. There have been no SLA breaches for passenger waiting times – our primary performance metric."
Meanwhile, Heathrow Airport Customer Operations Manager Sarah Kumeta comments: "Since the real-time installation I have noticed consumers appear less stressed when waiting for the bus. It has also encouraged passengers to use their time more wisely – e.g. using restrooms or charging a mobile device – as they know when the next bus is due. On-board media has proven a good distraction on journeys that can be perceived as long (especially when there is a flight to catch), provide key information about what is coming next, and remind passengers of security rules. We are now able to work more collaboratively with our partner OmniServ to measure SLAs and ensure we are meeting passenger needs."
Service user Victoria Duncan, World Duty Free Beauty Category Manager, says: "I am now able to see first and second bus times displayed on the screen, so I can decide whether to take the first bus or wait for the next one so I can finish my work and still arrive on time. This makes a big difference to my day."
Project Parties
– Heathrow is the world's busiest two-runway airport, welcoming over 77 million visitors each year – including 22.5 million connecting passengers. By connecting the UK with overseas markets, Heathrow enables passenger market sectors to reach customers in countries around the world; it supports trade, attracts foreign investment into the UK and brings overseas visitors to our shores.
– OmniServ is a global airline and airport assistance services provider, supporting over 100 airports globally, including 15 in the UK. The organisation has 2,000 staff based at Heathrow alone. OmniServ is the current supplier for Inter Terminal Operations in Heathrow, having held the contract since 2014. Its 26 shuttle buses move 3.6 million passengers each year, providing safe and efficient transport between terminals. While flight connections account for the bulk of passengers, OmniServ also supports Heathrow's huge staffing population, including border force, retail and security.
– Trapeze Group is a transport services technology provider. Trapeze's Real-Time Passenger Information (RTPI) solutions support a variety of transport modes, including airport shuttles (both airside and car parks), fixed route bus services, and Demand Responsive transport (DRT) services. Trapeze technology supports transport operations at an increasing number of UK airports, including Heathrow, Stansted, Glasgow and Aberdeen.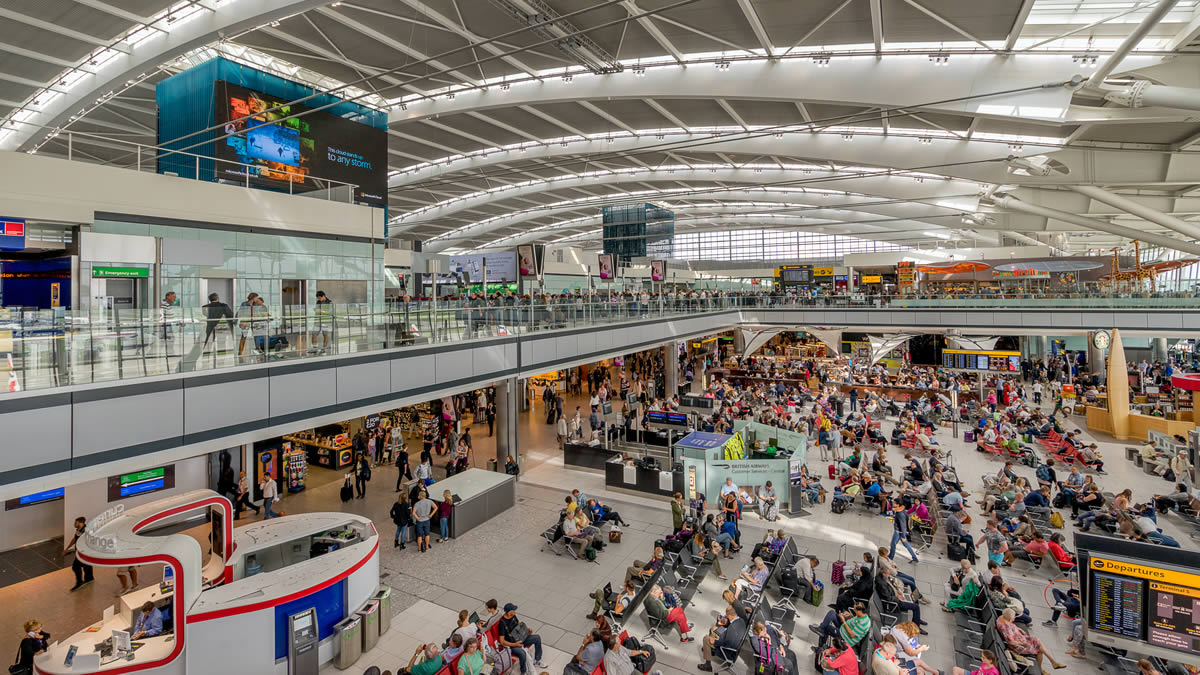 (c) 1999 – 2019 Trapeze Software ULC. All rights reserved
Trapeze Group respects your privacy