A greener, healthier Gloucestershire – thinking smart with RTPI
With 17 million bus journeys on commercially provided bus services – and a further two million subsidised bus community transport journeys – each year, it is clear that the Integrated Transport Unit team at Gloucestershire County Council are doing something right when it comes to encouraging residents to leave their cars at home and make use of the county's public transport services.
Driving this success are two men – Alan Barret, Passenger Transport Manager; and Nick Bauer, Transport Technology Officer. We met them in the historic West Country city of Gloucester to hear their story.
A greener, healthier Gloucestershire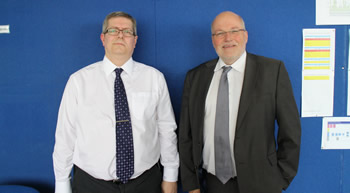 Speaking to Nick and Alan (pictured right), it is immediately apparent how passionate they are about both public transport and the role technology can play in making it accessible to all, which is central to meeting the council's key objective of creating a "greener, healthier Gloucestershire".
Of course, one of the quickest means of achieving this goal is by encouraging people out of their cars and onto the county's bus services, which Alan acknowledges can only really be done if people realise the bus is just as – if not more – convenient than the private automobile.
"We believe every resident in the county should be within 45 minutes of their place of work from their homes via a local bus service," Alan explains. "It's about convenience: if people realise that the bus can take them where they need to go faster than the car can – and without all the associated costs – then you're half way there."
They initially set themselves the target of offering this 45-minute public transport scheme to 95% of Gloucestershire residents, and are currently actually surpassing it: 96% of residents now live within three quarters of an hour from their place of work or location where they access other essential services, such as education, non-emergency health services and food shopping via local bus services.
Such goals are great from an environmental point of view, but there's also an economic case, as Alan notes: "Statistics show that the value of transactions in town here in Gloucester is greater from bus users than car users – in short, the people spending their money here and helping local businesses and the local economy to grow are bus users".
Achieving their goals: technology leads the way
Of course, it's one thing to offer great public transport and quite another to make sure people use these services. So how exactly have Alan and Nick gone about ensuring Gloucester residents continue to use – and increase their usage of – the county's buses?
Quite simply: it's about technology and information.
"One of the most important things we can do is to make public transport accessible," Nick says. "Technology can play a really important role here, because useful tools like apps help people use public transport."
On example is a new 'talking app', supplied by Trapeze, which has been developed for iPhone and Android, to offer audio announcements to assist blind or partially sighted passengers. It's one of a number of initiatives aimed at increasing access and independence for those with disabilities.
There's also a community transport app, which, as Alan explains "not only tracks vehicles, so ourselves and passengers know where they are; but we can also track users themselves – which is valuable because it allows us to see how people are using transport services and whether we can tailor our services to better suit their needs."
Nick and Alan's excitement is palpable as they discuss a number of innovative technological initiatives that are in the pipeline, including mobile ticketing; on-bus Wi-Fi; dedicated bus lanes and traffic light priority; as well as smart cards and bus passes.
The information revolution
But perhaps the most transformative initiative Alan and Nick have implemented is in the realm of real-time passenger information (RTPI), which is now available  across the county and in theory could be delivered via on-street display units installed at all 6,500 bus stops. They are not intending to do this; but instead will concentrate on key interchange points, such as bus stations and bus stops served by several services, while enabling people to access information on their personal mobiles or via the internet.
At the same time, investment in Trapeze's Novus-RT back-office RTPI technology has seen an improvement in quality, says Nick: "Previously we had RTPI running on schedule information – so arrival times were, at best, estimations – they didn't take into account the realities of public transport, so weren't always accurate. We would get people asking why buses weren't at stops when the display units said they should be."
"Now, however, the new systems are so much more accurate, using real-time data from multiple sources to track vehicle locations incredibly accurately." This is of course critical, Nick explains: "Reliable and accurate information gives people the confidence and ability to plan their journeys – it puts them in control."
Confidence in the journey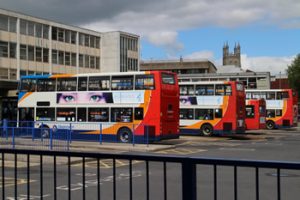 Giving Gloucestershire residents confidence in their public transport system has been crucial in helping Nick and Alan meet their key strategies of making public transport accessible, while also encouraging people to choose to ride the bus rather than use their cars.
"It's about convenience and making people realise how bus travel can be better than the car," Nick says.
Part of this means making sure information is distributed wherever passengers need it – straight to their hands via their mobiles, or their computers in the form of a web-based journey planner. "We are giving people the information they need to make informed decisions as and when – and where – they need it," Alan notes.
Interestingly, Nick makes the point that RTPI provides passengers with that most precious of commodities: time. "People no longer need to go to a bus stop to check schedules or wait at a bus stop for their bus to come and they don't need to waste hours of time sat unproductively in slow-moving traffic in their cars," he explains.
"Instead, they can get to the bus stop when they know the bus is going to come. And they know when it's coming because they just have to look on their phones. Having that extra bit of time to yourself is invaluable nowadays."
In our increasingly busy lives, even having an extra few minutes to ourselves is a benefit many can relate to. As Alan jokes: "I'd do anything for an extra ten minutes in bed – so I know exactly how important that little bit of extra time to yourself can be!"
Both men agree the role played by RTPI in attracting new bus users: "RTPI makes buses seem more attractive and can help improve perceptions – and address misconceptions – of what a bus is like," Alan says. "It helps people see the bus as the intelligent and convenient form of travel that it truly is."
Reciprocal benefits
Aside from the obvious benefits to the travelling public, reliable and accurate data presents a number of benefits to the council and its partners too – not least of which is the amount of time the RTPI system has saved for internal Local Authority staff, who no longer have to field time-consuming phone calls and queries from members of the public asking about bus times.
"Freeing up time for our staff is so important," Alan explains. "They can focus their time and energy better and more effectively on high-priority tasks, which saves the council money. But also it's about stress relief, because staff don't have such a heavy workload to carry – which helps improve their work/life balance."
But another key benefit comes from using RTPI data to monitor bus operator compliance with schedules, so the council can make sure their partners are running their services to the schedules they are contracted to.
"But it works both ways, because by sharing information with the bus operators, they can make sure they are keeping to their schedules, and monitor their own operations more effectively using real-time data – they can see where their buses are and when, and make operational decisions based on that data," Alan adds.
In short, RTPI "helps you turn problems into opportunities," as Alan puts it.
Indeed, it's this ability to use the data to inform business strategies that is helping Nick and Alan realise internal operational benefits. For example, Nick is able to use RTPI data to compile reports that help inform big infrastructure decisions, such as the building of new bus lanes.
Alan agrees that using RTPI data is crucial in these instances: "You have to be flexible. You have to be willing to adjust your strategies in line with the evidence and data. RTPI data shows you where you can, and perhaps should, be making changes. It's so valuable from that perspective."
Indeed, the value of RTPI data – to both commercial operators and local authorities – can be seen in the way Alan and Nick have used passenger data to find untapped markets. Alan says: "We found that Brockworth – a suburb to the east of Gloucester – was a massive untapped market, with lots of people using the bus service to get there rather than travel from there to reach Gloucester, Cheltenham or Cirencester. We never thought we'd see that, and it's only by using the RTPI data that we found this out. Now we know, we can tailor our services that much better."
 This story echoes that of Borough of Poole, where the popularity of bus services in another unexpected area (Poole-Sandbanks) has enabled the authority to use RTPI data to convince operators to run commercial services rather than tendered – thereby reducing costs while actually improving services to the public.
A smooth transition
So how did this information revolution take place? Part of the reason lies in the council's recent transition to Trapeze's slick new web-based system, Novus-RT.
"Comparing the systems is like chalk and cheese," Nick says. "The previous system was growing increasingly clunky. It was obsolete. Trapeze's Novus-RT is so easy to use, and the information and data is so much more reliable and accurate."
Of course, moving from one supplier to another can be a daunting prospect, but Nick and Alan have been pleasantly surprised by what has proved to be a very smooth transition.
So what does Nick think has been the key to such a smooth implementation?
"It's really been down to excellent communication and dialogue," he says. "Trapeze were great at communications – they kept us informed throughout the process; with regular meetings and conference calls."
This same level of communication was brought to the training process: "It's a simple system; but, having worked with the old system for so long, it was always going to take a bit of time to get used to a new way of working," says Nick. "But the Trapeze trainers were fantastic; they just walked me through it. So it was an easy transition."
Of course, communication doesn't end with the final training sessions – nor indeed following implementation. Nick explains that perhaps what he's found most impressive throughout the process is the way issues have been dealt with: "If an issue occurs, the resolution is so quick. It maybe takes half an hour to have any problem solved and there's no need to 'log' an issue before it gets dealt with – it just gets resolved there and then."
"The key is working with your supplier throughout migration process – it's so important, and Trapeze were great for that. But of course it doesn't stop at installation – it's an ongoing relationship," Nick says. "Our previous supplier could be quite silent if you raised any suggestions or highlighted where improvements were needed. They never came back to you to let you know if some new modification had been made – they didn't let you into the loop."
Instant benefits
Gloucestershire have been using Novus-RT for a couple of months, and even in this short space of time, both Alan and Nick are realising the benefits of the system, including receiving valuable data on traffic speeds, and anomaly identification.
"We saw that one bus driver was consistently driving completely off route," Alan says. "We had no idea where he was going!"
In instances like this, being able to share their findings with their operator partners via a web-based system has been vital.
"Because the system is web-based, it makes it easier to give our operators access to our back office systems and data, so they can address anomalies like this, which is crucial for their business, but also for our aim of making people view buses positively" Alan says. 
The bigger picture
A further benefit of RTPI data is that it can be used to help other departments in the Local Authority, Alan explains.
"Other departments often give us positive feedback and ask if there's any way they can get involved," Alan says. "For example, we have colleagues in social services who are looking at our Talking App and Community Transport App and seeing that it could really help them meet their own aims and objectives."
Yet the philosophy of co-operation and mutually-beneficial sharing of information extends beyond Gloucestershire's internal organisation.
"It's so valuable to work with neighbouring councils and share information and data," Alan explains. "Where people have information or tools available that can help other Local Authorities, I firmly believe in sharing practices and info – it's beneficial to everyone."
Back to the future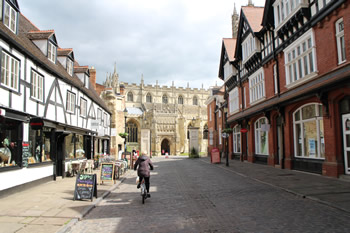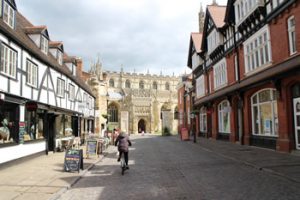 Looking to the future, Nick and Alan will continue to lead the way with a number of innovative initiatives aimed at improving the way public transport is provided.
Indeed, the council's smart travel card scheme – the 'Think Travel' initiative, includes a smart card currently in the pilot phase that will, when available, enable residents to travel on buses across the county using a single ticket or card. 
"Our smart card initiative is going to play a key role in improving the way we provide transport services," Nick says.
But these cards will also work in conjunction with RTPI – especially in the realm of school's transport (which is a considerable task for Nick and Alan's team, considering they have a duty to provide 7,000 – of a total 85,000 school children – pupils with statutory free school transport).
Indeed, Alan explains how RTPI naturally complements such travel cards in a way that benefits both parents and the council: "Parents can use our online portals to track their children on their buses home. They can see if their child has tapped their card on the bus and then find the location of that bus. And because parents can do this, they don't need to phone up the council asking where there child is – they just go online!"
And of course, RTPI will remain integral to Nick and Alan's goal of encouraging people to choose the bus instead of the car.
Indeed, because of this, they are looking at potential ways of using RTPI in their advertising campaigns and promotional material – "for example, one idea might be to set up large RTPI signs on congested routes beside bus lanes, which show car users that 'from this point it's five minutes to town on a bus; but 25 if you're in a car'" Nick explains.
Leading lights
It's obvious that Gloucestershire stands to play a leading role in transforming the way public transport is provided by local authorities, and how technology is used to revolutionise systems and change the way people view public transport. You get the impression that neighbouring councils are watching current developments and Gloucestershire County Council closely.
For the time being, then, all eyes will no doubt remain on Nick and Alan – two men at the helm of a truly innovative transport revolution. "It's just ironic that I've ended up here with public transport, because I used to get travel sick on the bus to school!" Alan jokes.
Ironic it may be; but using reliable, accurate information to give bus passengers the confidence they need to plan their journeys, while simultaneously offering benefits to operators, other local authorities and realising numerous internal benefits? There's nothing ironic there: it just makes sense.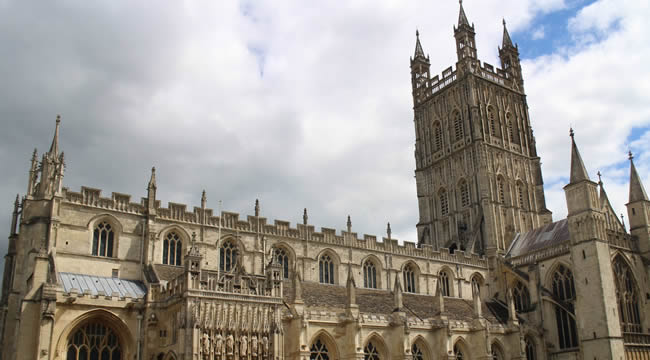 (c) 1999 – 2019 Trapeze Software ULC. All rights reserved
Trapeze Group respects your privacy