Trapeze UK User Forum: Spring Update – An Event Recap

The recent Trapeze UK User Forum: Spring Update offered customers a sneak preview of some of the latest developments on our product roadmap.
Thank you to everyone who came along and engaged in discussions on the day. If you were unable to attend, or would like to revisit the material presented, there is a summary of the event sessions below.
Event Highlights: DAS Anywhere Roadmap Update
Yard Manager
The first module developed within Trapeze's new DAS Anywhere system, Yard Manager is a potentially transformative step towards mobilising bus operations.
With Yard Manager, garage supervisors and controllers can reduce the costs associated with managing vehicle roll-out, allocation, and all other aspects of depot management.
Presenters Gavin John and Pete Adney explained the benefits of Yard Manager and outlined how the system optimises depot efficiency, ensures yard safety, and paves the way for electric fleets by enabling staff to ensure all vehicles are always fully charged and ready for the next day's work.
Fatigue Manager
To ensure the safety of drivers and passengers, Trapeze is working on a new Fatigue Manager module for DAS Anywhere. This solution uses a wide range of data sources and powerful algorithms to proactively ensure that drivers are fit to drive – thereby minimising the devastating effects of driver fatigue.
Attendees heard how this module will of course reduce workload but more importantly, ensure failsafe triggers are in place. Delegates also learnt of the work being undertaken to gain HSE approval.
Both Yard Manager and Fatigue Manager will work with current DAS/Progress systems, as well as future DAS Anywhere solution.
Worksheet Processing
Worksheet is the core of the DAS solution, and is designed to enable the launch of a Cloud-based DAS Anywhere solution. It enables users to manage and process worksheet at any time and from anywhere. It is process-driven, offers visual guidance and intuitive solutions, and can even been customised or themed depending on the user.
Keep your eyes peeled for more information on the Worksheet Processing in the near future.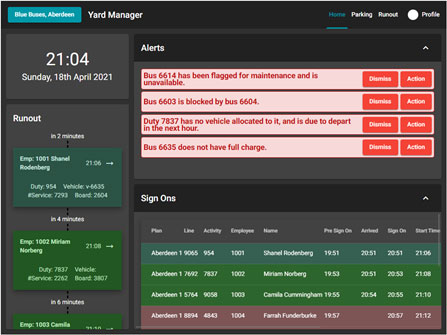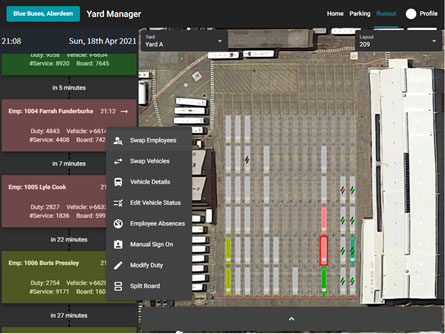 Updates on Existing Modules
Gavin and Pete gave attendees an update on DAS OnBoard, which is now available to over 25,000 drivers across the UK, and DAS Auto Allocation, which is now in use at three client sites.
OnBoard
We are receiving hugely positive customer feedback for OnBoard, focusing on its ease of use, ability to remove depot crowding, and the fact that it can be accessed at any time – even from home. Managers have reported greater accuracy, supervisors can deal with requests in their own time in a calm environment, controllers suffer less distraction when running depots, and union reps say it has made distribution of work fairer.
Auto Allocation
Gavin and Pete also reported great results from Auto Allocation, discussing how it is resulting in the removal of human interpretation from allocation decisions, and how deficiencies in other systems and processes can now be spotted.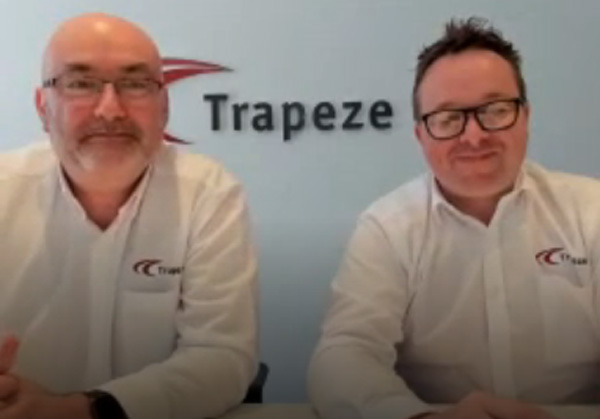 Using Customer Feedback
Since we last met up, the Trapeze team has been heavily focused on using customer feedback to directly influence the development process.
Attendees heard about three ongoing Special Interest Groups (SIGs) in the UK, Scandinavia and Germany, where Trapeze staff are actively collaborating with customers on the design of upcoming solutions. The team have also held eight User Journey Mapping (UJM) sessions this year, offering 30 bus operators the chance to feed back on the usability and efficiency of systems.
Using this invaluable feedback, Gavin, Pete and the team have been analysing customer value, market requirements, empathy mapping and prioritising requirements to ensure all systems meet the needs of our customers.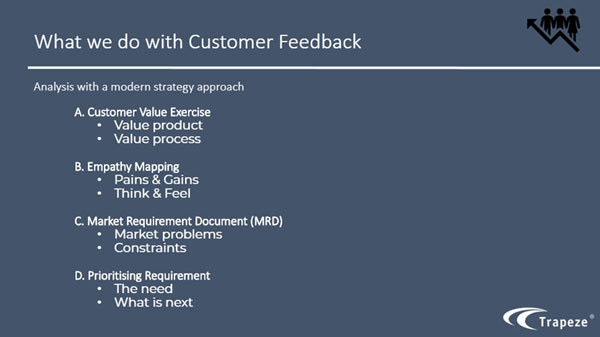 (c) 1999 – 2021 Trapeze Software ULC. All rights reserved
Trapeze Group respects your privacy