Trapeze UK Conference: Spring Update for Demand Responsive Transport Customers – An Event Recap

We were thrilled to be able to reconnect with our Demand Responsive Transport (DRT) customers at the recent Trapeze UK Conference – Spring Update, which took place at the end of May.
During the event we showcased two brand new products which we believe are set to transform customer experience within the DRT industry.
If you weren't able to join us on the day then you can catch up on what you missed below!
Event Highlights
*New Product!* Mobility on Demand
Attendees enjoyed a preview of the exciting new Mobility on Demand system, which is the successor to Trapeze's existing PASS system. This revolutionary solution has been designed from the ground up to deliver a completely new level of user experience, incorporating passenger self-service, automated scheduling and enhanced analytics to increase call centre productivity.
Our Product Manager David Yemm explained the key benefits that Mobility on Demand customers can expect to enjoy:
Smart Scheduling. Passengers will reach their destinations faster with less waiting time, and will enjoy accurate trip duration and arrival times due to Mobility on Demand's Smart Scheduling system which continually optimises runs based on traffic, weather conditions and any other unanticipated events. As a result, your staff will spend far less time on manual intervention, enabling them to devote their time to other important tasks.
Superior Mapping. Multiple data layers in the system means maps update automatically, ensuring optimal schedules whilst any current bad road conditions, roadworks and layout changes are considered. As a result, Mobility on Demand will minimise the impact of disruption and ensure services run as close to the schedule as possible.
Instant Upgrades. As a Software-as-a-Service (SaaS) solution, Mobility on Demand eliminates traditional upgrade processes. With this solution all new features can be implemented quickly and easily, ensuring you are always harnessing the latest version of the technology.
Ease of Use. Mobility on Demand's user interface and workflows were designed in collaboration with customers from the UK and North America. As a result, the system reflects the workflow processes that users undertake each day, reducing the time taken to carry out regular tasks, and making training new staff quick and easy.
*New Product!* DriverMate X
The second new product showcased during the event was DriverMate X, which transforms communications between office staff and drivers through real-time vehicle location and instant sharing of changes to schedules, thereby enabling services to be delivered more efficiently.
DRT Product Manager David Yemm demonstrated how the system looks on both desktop and mobile/tablet platforms whilst outlining a range of new functionality, including:
Modern, streamlined user interface
The most optimal use of screen space
Simple navigation uncluttered by non-critical information
Improved, easy to read map screen
Simple remote application deployment
Manifest changes tracked via notifications screen
Designed for tablet use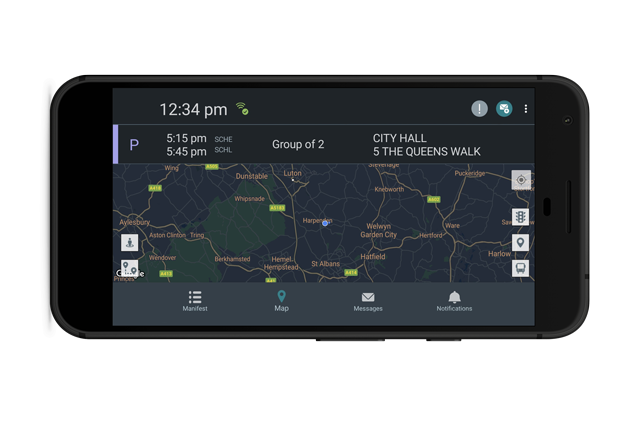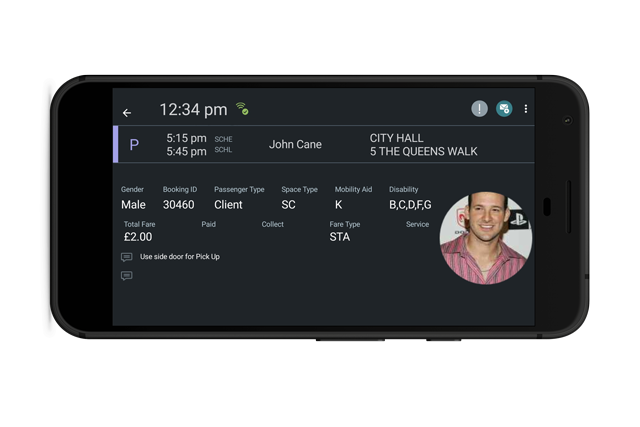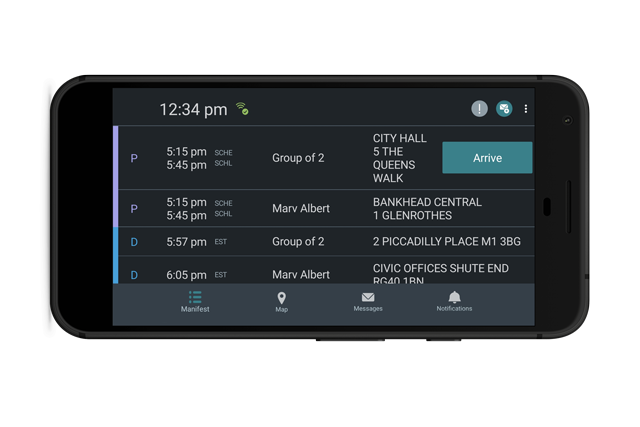 Introducing Mobility on Demand and DriverMate X
Re-imagining Passenger Experience
In this session we explored how technology can drive greater efficiency in operational processes and enable authorities to grow and maintain ridership, while also lowering costs and future proofing investments with our Connect booking portal, Ripple notifications module and DriverMate driver app.
Paul Everson explained how we have recently been reviewing local authority transport plans and strategies to better understand our customers' longer term motivations.
Using examples from other domains and case studies from the NHS, we demonstrated how best practice in delivering customer experience can deliver better outcomes for passengers and local authorities in the context of DRT:
Self-service is becoming the preferred way to book
Customer self-service has a recognised business value
Customers require multi-channel access, with mobile preferred
Attention to detail and personalisation of context
The concept of normal working hours has changed
The team then identified three key themes to reimagine customer service: self-service, frictionless and consistency. Ed Reece then related these themes back to Mobility on Demand and DriverMate X systems, as well as enhancing SMS notifications and booking anytime, anywhere for passengers.
These principles are driving the development of Mobility on Demand and DriverMate X and will continue to do so in the months to come. If you would like to find out more about how these solutions are driving a transformation in passenger experience, please get in touch.
Working with Strathclyde Partnership for Transport and Disability Action
Account Manager Penny Johnson led this discussion on how the team at Trapeze evolve and nurture relationships with customers, with examples from Disability Action and Strathclyde Partnership for Transport (SPT).
Attendees heard how Disability Action became a Trapeze customer in 2013 and how through working together we built up a relationship which has enabled them to ensure they are getting the most out of their technology by helping our team to understand their specific needs and problem areas, and how we can also start these conversations with our other customers to increase our understanding.
Michael McNulty, Transport Manager for Disability Action said: "We as customers have a responsibility to support Trapeze as an organisation to enable them to give us the best support possible, so I would encourage Trapeze customers to reach out to their account managers.
"And I can say I would certainly recommend Trapeze and their systems to others who are yet to discover them."
Gary Robertson, Network Analysis & Design Manager for SPT also joined the session to explain how the organisation has developed their relationship with through forming an ongoing partnership with support offered at every stage of the project.
He gave an overview of the organisation and how they manage their DRT network, including how working with Trapeze has enabled them to provide the best level of customer experience for their passengers and uncover support and remedy for a lot of the pains they encounter in their processes.
> Watch each session recording or get in touch to find out more about any of the above topics.
Re-imagining the Passenger Experience
(c) 1999 – 2021 Trapeze Software ULC. All rights reserved
Trapeze Group respects your privacy