Trapeze is at IT-TRANS 2020
This event has been postponed due to recent Coronavirus developments. Please see the organiser's website for up-to-date details.
Are you visiting this year's IT-TRANS event in March? If so, please schedule some time to visit the Trapeze stands to check out the latest technology solutions, including:
Trapeze at Booth H1 in Hall 1: ITCS, passenger information, e-bus management
Trapeze subsidiary AMoTech in the Action Hall (lobby): Autonomous mobility
Trapeze subsidiary Systemtechnik at Booth F1 in Hall 2: Ticketing
Our exhibition highlights
ITCS for operations of any size
LIO-Professional is a version of our ITCS that is tailored to the specific needs of small public transport operators. The integration of an on-board computer and ticket printer into a single device makes this cost-effective software unique.
Efficient e-bus management
With the introduction of electric buses bringing new challenges, we can offer various solutions for both control centres and depots.
Planning and dispatch of buses, trams and railways
Rostering and staff dispatch management processes can be streamlined and fine-tuned with our planning and dispatch solutions. Schedules are easy to create, and vehicle blocks, services and rotas can be organised with little effort.
New ticket validator
Operators can now use validators as an advertising platform by using their own corporate colours. Trapeze-Elgeba is equipped with maintenance-free engineering inside, and the branding you want on the outside at no extra cost.
Passenger information
With a suitable display for every stop, the SmartInfo E-Paper display built on e-ink technology offer operators a wide variety of new applications.
On-demand transport of people and goods
Passengers can book on-demand mobility services and pay electronically – and unaccompanied goods and autonomous vehicles can also be integrated into the system.
PT app for the blind and visually impaired
INTROS transforms a smartphone into a personal travel assistant, enabling people with restricted vision and mobility to use public transport services unassisted.
Professional digital radiotelephony solution
SmartTalk is a high-efficiency radiotelephony solution for organisations facing demanding in-company communication tasks that supports push-to-talk communications and public mobile radio telephone services. It can be used with smartphones, tablets or rugged handhelds.
About IT-Trans
IT-TRANS is an international conference and trade fair for smart solutions in the field of public transport. Since 2008 industry experts have come together every two years at Messe Karlsruhe to exchange, discuss and redevelop digital solutions.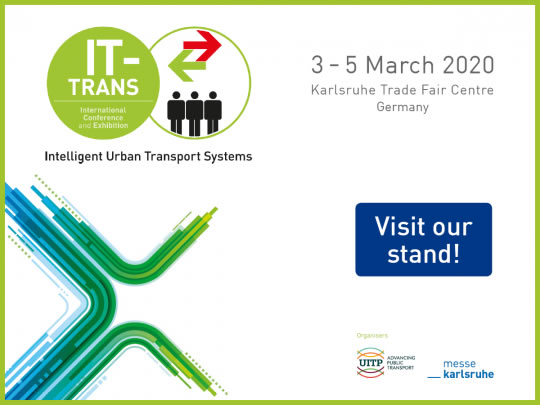 (c) 1999 – 2020 Trapeze Software ULC. All rights reserved
Trapeze Group respects your privacy