Beyond COVID-19: Lessons Learned from North America
A "punch to the gut" seems an appropriate way to describe the impact COVID-19 has had on the public transport industry – as put by Trapeze North America's Paul Comfort when chairing a recent customer executive roundtable.
The session was designed to enable customers to share perspectives and responses, and given that we can all benefit from this kind of information exchange, we wondered if there were any learnings we could bring home to the UK.
Like most areas globally, North America has, of course, experienced devastating damages in recent weeks, including a 50-90% drop in ridership. The loss is particularly disappointing as it follows last year's welcome surge in numbers, which reversed a five-year slump.
The focus of this roundtable was therefore upon how can technology guide transport providers onto a path of recovery as the lockdown rules ease – a question pertinent to us all.
Adjusting to a changing world
Introducing the topic, Trapeze North America General Manager Steve Sawyer explained that the team has "effectively been forced into an unprecedented transformation", with features that have been in development for months suddenly needed extremely urgently. In short, customers' priorities had changed overnight. For operators, one sad and alarming realisation was that vast quantities of previously precious ridership data had become worthless overnight. Operators no longer knew the fundamental information on which they had previously relied: where people travel, the typical passenger, or average rider numbers. Operators therefore had to very quickly begin the process of understanding the new needs of their passengers.
In response to COVID-19 we have of course witnessed many examples of fundamental changes conceived and delivered in timescales that were previously unimaginable. Many operators in North America have waived fares or implemented online, pay-in-advance ticketing systems to avoid currency exchange, and we have seen similarly radical changes here in the UK – perhaps most notably with TfL's middle-door boarding change.
The roundtable also highlighted the ways in which operators are attempting to increase customer confidence through clearer communication and by enabling passengers to plan their essential journeys more effectively. Some operators, including Saskatoon in Canada, have adapted real-time displays to deliver information regarding government guidelines and how to keep safe while making essential journeys.
Jim McDonald, Director of Transit at Saskatoon said: "We have turned to technology to implement several measures in an attempt to soften the impact of COVID. We have audible announcements at stops to remind riders to wash their hands and to keep following social distancing rules.
"We have also implemented emergency updates on when a bus reaches full capacity. This was developed in less than a week which is unheard of – so we were very pleased to get this working so quickly."
Moving towards a new normal
Some of these changes are clearly things we should hold on to. As Steve Sawyer said: "The pandemic has been a catalyst to new technology and it is important we take these lessons with us as we approach a new normal."
COVID-19 has of course been hugely challenging for all of us, but as this roundtable illustrates, there have been some positives to be taken from this experience. In the transport world, the willingness to embrace opportunities to share experiences and learn from one another has been impressive and inspiring.
Trapeze, with a global network of customers across a range of transport modes, is of course well positioned to facilitate this kind of information exchange – both in the UK and globally. We have seen operators learn how to come together to keep services running, how to rapidly adapt services to meet customers needs, and then how to plan the first cautious steps as we move towards a recovery.
We are committed to continuing to share these stories, and to helping our customers to learn from one another. Here for the journey is our company tag line, and it feels truer today than ever before.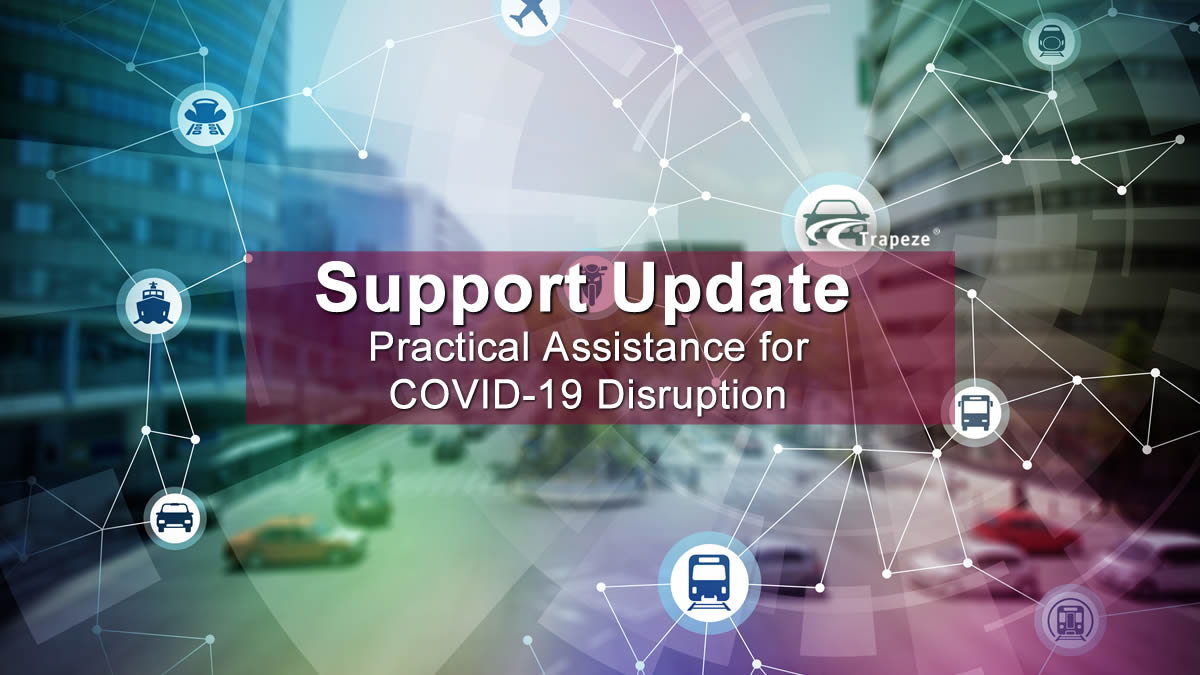 (c) 1999 – 2020 Trapeze Software ULC. All rights reserved
Trapeze Group respects your privacy