Using Machine Learning To Improve Battery Life and Range Prediction
With the number of electric buses predicted to increase by 180%, the UK is set to have the largest electric fleet in Europe by the end of 2024. In London alone, there are currently around 850 Electric Vehicles (EVs) in operation. Whilst this is positive, it's important to recognise that electric buses come with their own unique set of challenges. This includes the battery itself.
We replace our phones when the battery starts to deteriorate, but in order to remain sustainable, bus batteries need to last for years. Battery health goes beyond just a number on a screen – it's complex and multifaceted, much like human health. There are many ways that it can degrade and how the bus is driven will affect the speed with which the battery runs down.
Utilising Machine Learning
At Trapeze, our machine learning capabilities capture the health of the battery beyond a single number. Insights provide better data about bus performance, allowing operators to optimise the way they use their fleet to increase the overall battery life of the vehicle.
Behind the scenes, Service Controllers will be able to make most out of their electric fleet by proposing routes and driving patterns that can help to reduce charging times and battery degradation. Plus, centralised control will reduce range anxiety in drivers, who will be able to focus on safely driving the vehicle and passenger support.
Cost Implication
We recognise that there is huge cost involved with sending buses to a charging station or holding a bus back at the layover for charging during a block. With machine learning, we're able to predict battery range more accurately, so vehicles won't have to return to charging stations unnecessarily, saving time and money.
Increasing Ridership
With so much conversation around the reliability of EVs, operators need to ensure that they have the trust of the travelling public in order to maintain and increase bus ridership. The ability to accurately predict battery range in advance is critical for enabling the vehicle to complete its route on time and demonstrating to passengers that EVs are a dependable, viable option for the future.
To discuss machine learning further, get in touch with us today.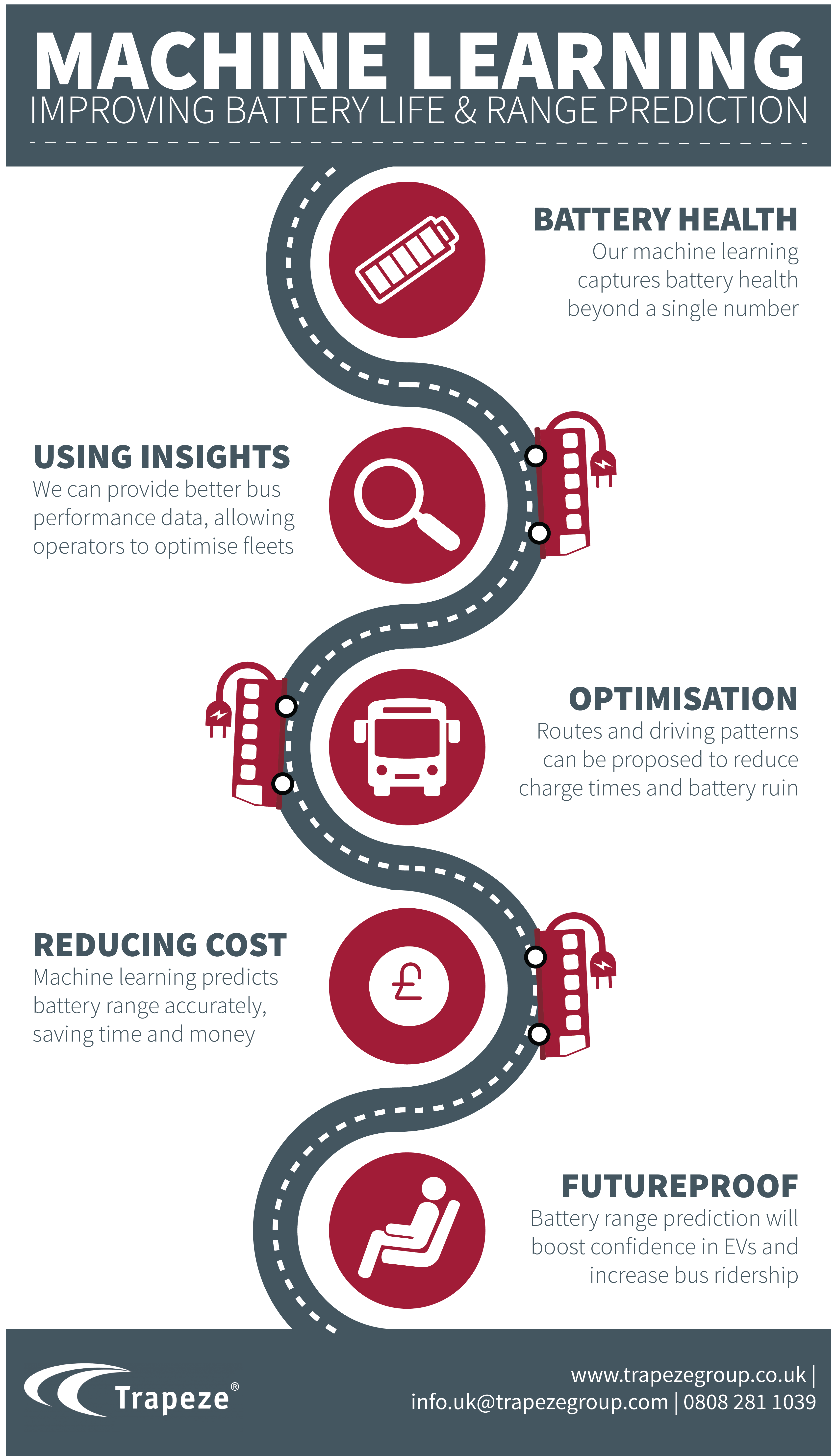 (c) 1999 - 2023 Trapeze Software ULC. All rights reserved
Trapeze Group respects your privacy