Supporting the First All-Electric City Bus Service in Ireland
Athlone has become the first town in Ireland to implement an all-electric bus service. Subsidised by the National Transport Authority, the vehicles are operated by Bus Éireann.
Buses in Athlone travel over 540,000km each year, and with over 10,000 passengers now using the service weekly, the vehicles will reduce annual carbon emissions by 400,000kg and create quieter, cleaner bus service.
Trapeze is proud to support the rollout of all-electric vehicles by integrating those vehicles into the overall combined network, promoting consistent information for passengers. Since 2005, we have provided the on board Automatic Vehicle Location (AVL) and Real Time Passenger Information (RTPI) solution. Installed across the entire fleet, our system allows Bus Éireann to optimise their operational performance and service quality.
With the provision of dispatcher location control, voice capability supporting driver communication, and real time passenger information fed through on board TFT signs, we enable Bus Éireann to deliver an enhanced bus network that promotes passenger satisfaction, demonstrated by a 15% increase in ridership since 2019.
National Transport Authority CEO, Anne Graham, said, "The launch of these electric buses represents a very significant milestone on the journey to a zero-emissions fleet for our town and city bus services. From today the people of Athlone will benefit from buses that are cleaner, quieter, more comfortable, and more attractive. Athlone will be the first service in Ireland to be delivered entirely by electric buses, and we should not underestimate the significance of that for this town and for public transport in general. The experience we gain here with our colleagues in Bus Éireann will doubtless stand us in good stead as NTA rolls out similar programmes in Dublin and in other cities and towns in the months and years ahead".
Trapeze Group Operations Director, Steve Benton, said, "Trapeze's on board technology has been designed to ensure we can deploy onto any bus in the network. This built-in flexibility has ensured that we have been able to support the first electric vehicles with AVL onto the Bus Éireann network.
Get in touch today to speak to us about implementing an AVL solution.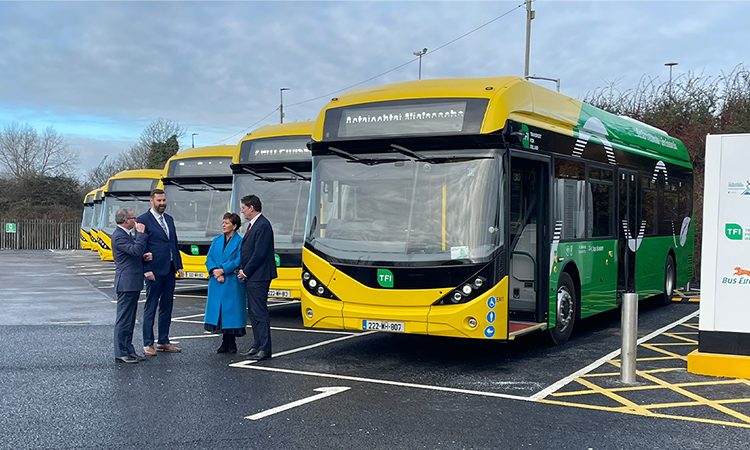 (c) 1999 - 2023 Trapeze Software ULC. All rights reserved
Trapeze Group respects your privacy