Restoring Public Trust in Buses: Meeting the Needs of Passengers
(This article first appeared in Intelligent Transport, 14th September 2021).
Ahead of Trapeze Group's webinar on 28 September 2021, Paul Attenborough, Programme Director at Trapeze, sat down with Intelligent Transport to discuss some of the key learning points of the webinar and to offer some insight into the challenges that the bus industry is facing post-pandemic.
COVID-19 has had an unprecedented impact on the public transport industry. What challenges are currently being faced by the industry following the pandemic?
Obviously there has been a huge ridership impact, which affects both bus operators and regional authorities. Bus passengers are returning, and I expect that this trend will continue over the coming months, but we all know that it will take time for ridership to fully recover to pre-COVID-19 levels. And that is without fully understanding any longer-term behavioural impacts, such as the acceleration of home working trends.
However, I think that the challenge before us is not merely to position the bus industry for post-pandemic recovery; it is to present the bus as the dominant mobility solution for the next 20 years. We must evolve and enhance the bus proposition, ensuring that it is as convenient, safe and reliable as possible. In this way, we will deliver mobility that is in-line with modern passenger expectations and avoid the catastrophe of a car-led mobility future.
The bus industry, in particular, continues to experience reduced ridership numbers. What is the key to changing this?
Based on what we are starting to hear from returning passengers, we believe that passenger confidence is central to increasing ridership, and there are a number of ways in which we can help.
One way, which is very COVID-19-related, is cleanliness. We need to ensure that the experience whilst on the bus is in line with current passenger expectations: that means that operators must maintain vehicle cleanliness at the highest level, providing the reassurance that passengers now demand.
But what is also really important, from a confidence perspective, is punctuality and reliability. Is the service that people are paying for going to arrive? Will it turn up when described and provide the best possible level of service? These are all questions that potential passengers will be asking of buses and other modes of public transportation. We understand now how people's buying decisions have changed during the pandemic – particularly in relation to online shopping and fast-food delivery, but these changes also relate to public transport.
Working from home and spending more time within the home ecosystem, people are now even more demanding in terms of understanding when products and services are arriving and if they will do so on time. People expect detailed and accurate information at all times, regardless of where their product or service is in the delivery timeline. Therefore, I think that, from a bus perspective, we need to make sure that we provide that same level of information and confidence.
Additionally, we need to consider how to market the bus. If you think back to the start of the pandemic and recall the UK government's advice to avoid public transport, it is clear that these were very powerful messages that had a profound impact on public opinion. Even now, with most restrictions lifted, many people remain hesitant to return to public transport. So, the question is: how can we ensure that safety is paramount so that people can be confident in making informed decisions, and then also provide them with a great experience?
Will technology play an important role in restoring passenger confidence post-pandemic?
Technology can help to restore passenger confidence in a variety of ways. One is by brokering the vast amount of complex data that supports the bus industry. As a technology supplier, our job is to combine and broker the available information, absorbing and masking the huge complexity in doing so, and then enable the markets to present clear information to passengers so that they can consume it at the right time and thereby make sensible, convenient and sustainable travel choices.
It is absolutely clear that, when society returns to some form of normality, the private car cannot be the default option. As technologists supporting our clients, which are both operators and local authorities, we know that accurate and timely information is fundamental to ridership levels. Our role is to provide information that empowers commuters and other passengers to choose public transport options for their journeys.
What do you think the future of the public transport industry looks like?
The adoption of new and existing technology will be key. As I mentioned, one of the things that we focus on is working with the data that supports the bus sector, which is really quite complex and diverse, in order to simplify that information. It is very difficult to articulate all of that data and information to the passenger, so I think that one of the things that we would like to see is a 'smoothing out' of some of the pitfalls of travelling by public transport.
For example, Transport for London (TfL) have made it very easy for passengers to travel with the introduction of the Oyster Card and contactless payments. Passengers are able to make an informed decision and pay for it easily. That is a complex process made simple by TfL.
Similarly, when passengers consider travelling by bus as part of an end-to-end journey, the question is how we join that up from a technology perspective. How can we inform the passenger during their journey about any disruption or other impact to their journey? How can we both provide that information and then also enrich it throughout the course of the day so that passengers have the confidence that they can not only reach their destination, but they can also then get back? I think that providing timely and accurate data is really key to that.
But, ultimately, I think that the answer to the question is that the future of public transport is clean, safe, reliable and sustainable mobility for all who need it. Buses will remain a vital part of the mobility network – moving large numbers of people around in the cleanest, most efficient manner. I believe that, in the future, buses won't just be the dominant element in the public transport network; they will come to be seen as the 'green arteries' of our towns and cities. Hopefully that is a future vision that we can all align behind.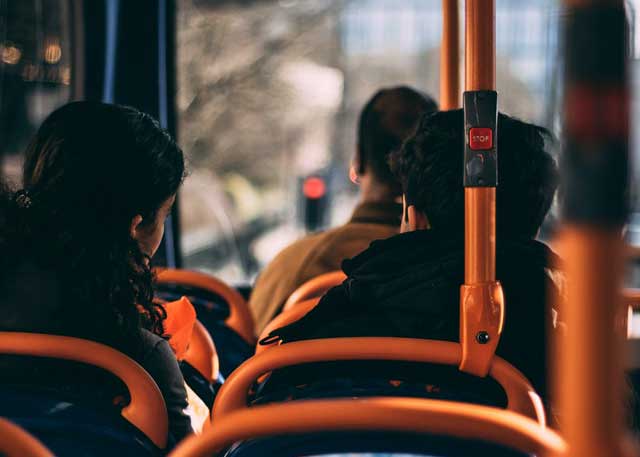 (c) 1999 – 2021 Trapeze Software ULC. All rights reserved
Trapeze Group respects your privacy