Real-Time Relaxation: The Solution to Airport Stress
It is well understood that passengers find airport travel stressful. Indeed, one report found that many view it as worse than moving house. Tight deadlines, large crowds and lack of control combine to cause frustration, anxiety and even panic.
Absence of reliable information is a major cause of airport stress, leaving passengers panicking that they may not make their flight. Frustrations often begin in the car park; increasing while waiting for transport to the airport, in the terminal, and waiting to be carried to the plane.
Knowledge has the power to alleviate such frustrations. So how can we place accurate, up-to-date information in all passengers' hands?
Causes and Impact of In-Airport Stress
If air travel is stressful, airports could be said to represent the epicentre: busy, expansive environments where passengers must keep to a strict schedule or be left behind. According to research by CPP, 42 per cent of people feel stressed when travelling through a busy airport – and nine per cent avoid travelling by air altogether as a result.
While it may be true that the largest airports are the most stressful, this is a universal issue. Psychologist Annu Haapakangas, in a report by Helsinki Airport, says the main stressors are loss of control, feeling rushed, crowds and noise. To combat this, each summer travel companies publish tips on beating flight frustration; and airports around the world – from Aberdeen to Zurich, whether the size of Heathrow or Helsinki – do all they can to alleviate passenger stress.
In some ways, frequent business travellers may be worst affected, suffering an accumulation of delays, queues and short transfer windows. A recent study published in the Journal of Occupational and Environmental Medicine revealed that long term business travel could even be deadly if accumulated stress is not effectively managed.
A study by CPP also highlighted how frustrations accumulate – "If travellers are in a state of high stress already, hassles at the airport are likely to compound it." The survey found that issues start before reaching the terminal: 13 per cent of passengers arrived stressed after getting lost on the way, while 14 percent endured heightened anxiety while finding somewhere to park.
So it seems that many passengers find the journey to the terminal tense, and are very stressed by the time they are taken from the terminal to the plane. So how can all this be alleviated?
Technology for Tranquillity
For passengers stressed by a perceived lack of control, blindly waiting in an airport car park for a bus transfer can enhance feelings of frustration. Therefore, one of the most critical improvements relates to the delivery of reliable information: Real Time Passenger Information (RTPI) signs show passengers precisely when the next buses will arrive, providing a sense of confidence in the connection, and reassurance regarding the overall experience.
For less familiar passengers, improved on-bus experience can also reduce stress: in-vehicle screens can show the current time, flight departures, and estimated arrival times at the terminal (or the plane for airside transfers); while location-specific messaging can prepare them for upcoming security measures or retail options. Overall, this increases passengers' confidence that they will reach their destination in time, thereby reducing stress.
For airport managers and transport operators there is an additional benefit here: better communications improves passenger flow through the airport, reducing crowding and waiting times. Furthermore, live passenger counting can enable operators to adjust schedules to meet real-time demand, further reducing waiting times and passenger frustration.
Implementation Considerations
While RTPI has the potential to help airports to make important adjustments that put passengers first, historically it has often proved difficult to implement – particularly in the largest, busiest and most heavily built-up airports.
Connectivity
RTPI historically required accurate GPS signals to work effectively. But of course airports are often complex and heavily built-up locations, so airside vehicles often lose GPS when travelling through tunnels or beneath terminal buildings. In the past, some tracking solutions have failed because poor connectivity has undermined the quality of data delivered to the passengers. To work effectively, a modern RTPI infrastructure must ensure the accuracy of vehicle locations and arrival times – even in tunnels and beneath buildings.
Scale and Security
It is of course not possible to take busy international airports offline in order to implement new technology. Projects must be undertaken within a live environment, resulting in works being scheduled overnight or during any available quiet periods. Stringent Airport security is another key consideration: advanced planning is required to ensure on-site engineers are properly registered and issued with the right identification.
RTPI at Heathrow Airport
Real-Time Passenger Information was recently implemented at Heathrow Airport – one of the busiest and most built-up airports in the world. Despite the challenges outlined above, the project was formally completed in May 2018 – coinciding with the busiest May the airport has ever experienced.
Already the impact is being felt across all major stakeholder groups – especially service users, who now have a sense of control over their journey, whether travelling to, from or between the airport's terminal buildings.
Airport staff have also noticed a significant improvement: Customer Operations Manager Sarah Kumeta has said that passengers appear less stressed when waiting for buses, and are encouraged to use their time more wisely – such as using restrooms or charging a mobile device – because they know when upcoming buses are due.
Inter Terminal Operations staff have also noticed the positive impact – Stephen Wilson, OmniServ ITO Operations Manager has said that passenger waiting times are down, and the ability to dynamically re-route buses have made it possible to address surges in demand.
As the Heathrow example shows, delivery of Real-Time Passenger Information can have a profound positive impact across the airport – improving operations for service providers and making the overall experience far less stressful for passengers.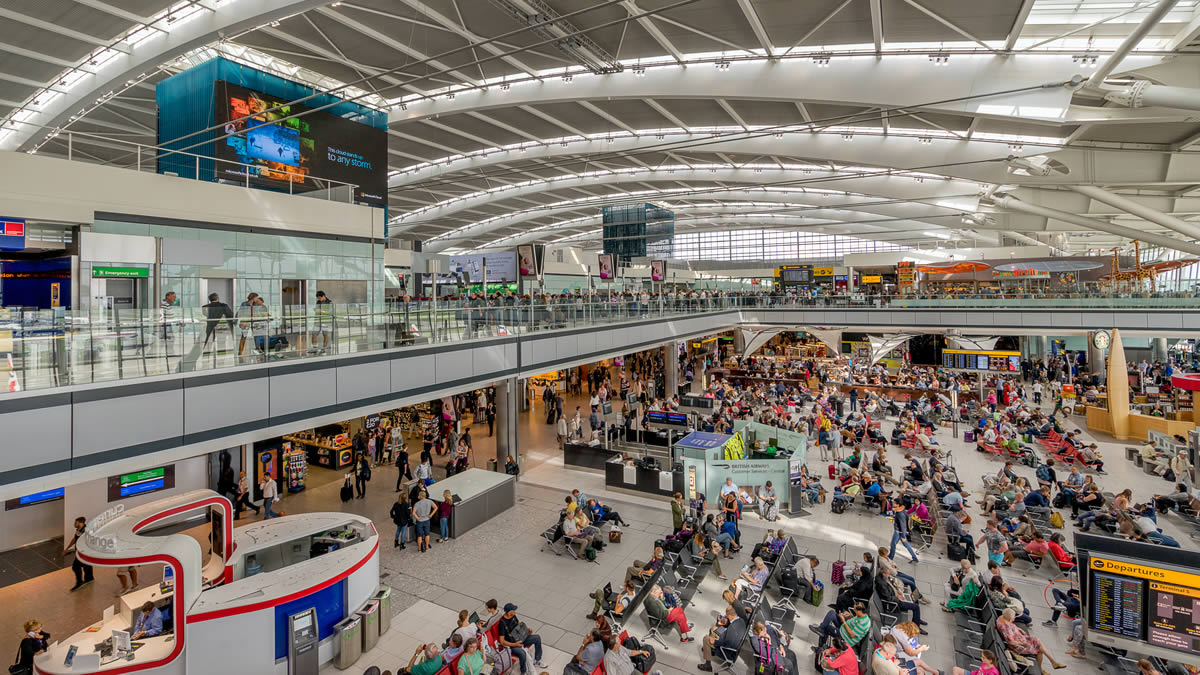 (c) 1999 – 2019 Trapeze Software ULC. All rights reserved
Trapeze Group respects your privacy