FlexDanmark – Nationwide MaaS
(This article first appeared in Metro Magazine, 6th February 2019)
Denmark is a country in Scandinavia with about six million residents. The major public transportation systems there began to evaluate inefficiencies in providing public transit over 20 years ago. Human service, medical assistance, and disability transportation providers were sending multiple vehicles to the same locations to pick up passengers headed in the same direction. To deal with uncoordinated and inefficient silo thinking in the demand-response offerings in the country, they decided to attempt to better coordinate these services. In addition, fixed-route bus services were providing "coverage routes" to more rural areas without much ridership. To tackle this costly inefficiency, the agencies decided to create flexible demand-response routes for both school children and the general public.
Then over a decade ago, the five major transit systems in the country banded together to create a demand-response transit cooperative to create even more efficiencies and share resources. In 2011 they named their cooperative, FlexDanmark, billed as a nationwide demand-response transit service.
This program was recently highlighted by an American Association of Retired People (AARP) publication as a potential model for better mobility in America. I traveled to Denmark to see for myself what could be learned from what some are calling the world's first nationwide Mobility as a Service (MaaS) model. I visited FlexDanmark's offices in the old town of Aalborg (pictured) along with my colleagues from Trapeze Northern Europe in Denmark, who provides the backbone software that allows the nationwide shared-service to operate effectively.
How FlexDanmark Works
The FlexDanmark cooperative is "owned" by the five major transit agencies or public transportation agencies (PTAs) in Denmark who each have representatives on a board of directors. It orchestrates the "optimal and cheapest combination of trips, originating from many different transportation authorities and different booking interfaces, utilizing vehicle resources from many different private transportation operators."
All five of the transit agencies utilize a common reservations and dispatch software based on a shared-transactional data specification called SUTI, which standardizes trip request data across multiple providers and platforms. This allows an average of 15,000 daily demand-response trips (almost six million annual trips) to be booked and provided in a shared-ride fashion that includes school, medical, disability, and general public trips. The software merges the reservations and schedules the trips, then dispatches them to private transportation contractors, who then accept and provide these shared-ride trips.
During peak periods, each of the five agencies take their own reservations and dispatch the demand-response vehicles in their city. But overnight and on weekends the FlexDanmark dispatch center in the northern Denmark city of Aalborg springs alive and provides centralized dispatch for the entire nation's demand-response services. Trips can be booked online, with a smart phone app, or by calling into a reservations center. Self-service trip booking portals at hospitals also play an important role.Medical trips and those provided to people with disabilities are considered "closed" trips that require pre-certification of the client passengers by the local transit system and carry an extra-subsidy by the government. The general public who use this FlexDanmark door-to-door demand-response service pay a higher fare that is less subsidized in what is called their "open" transport. All trips are planned in a "pool," which gets continually optimized to provide for the most efficient, timely service possible.
The five PTAs are responsible for their own local railways, buses, and demand-response services, but they do not operate any buses on their own. All public transportation services are procured from private operators. Each PTA is responsible for contracts with the operators. All vehicles and operators are from the private sector and participate in annual tenders in which they competitively bid their own prices. These are taken into consideration as trips are bundled and dispatched to the lowest-cost provider.
The operators come from the ranks of private individuals driving their own cars to taxi and minibus companies. Each provider and their vehicles are reviewed and certified by the local PTA as eligible to participate in the program. Nationwide, there are approximately 500 demand-response providers working under the FlexDanmark system utilizing 4,000 to 5,000 total vehicles — many of which are only available part time.
The service operates under the general principle that "whoever approves, pays the bill." This means that trips provided to passengers who are riding from a particular city's transit area are paid for by that transit agency. The average cost per demand-response trip nationwide is now only about $30 U.S. dollars. This represents a reduction in the cost of providing human service transportation trips by an average of 20% and up to 40% for what rural trips used to cost there. All five participating agencies underwrite the operating cost for FlexDanmark.
Per Bo Christensen, CEO of FlexDanmark, noted that the PTAs provide regular school bus transportation for students, but those in less-densely populated areas are provided service through the demand-response system for door-to-door service to and from their school.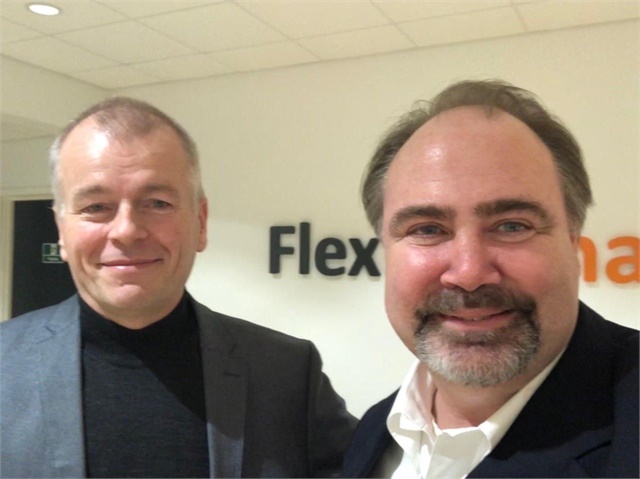 Per Bo Christensen, CEO of FlexDanmark (Left) and Paul Comfort
More recently, the FlexDanmark service moved to offering first- and last-mile service from riders' homes to transit stops. This too is lowering overall cost by limiting the length of trips that were provided from a riders' home to their final destination, and now, channel them into existing fixed-route bus and rail service.
FlexDanmark Model Lessons Learned
Thomas Eybye Øster, managing director of the local PTA in Aalborg and a board member of FlexDanmark, said part of the success of this model was removing less used fixed bus routes and replacing them with this FlexDanmark demand-response service, which provides better door-to-door service for the passengers and is less costly to operate for the agencies. He also asserts that part of the mobility success in Denmark is due to the fact that they have a nationwide smart card system that can be used on any major transit system in Denmark.
As for the future, Øster suggests that strong cooperation between the private sector contract transportation providers and public transit agencies will be key for success. He notes that 98% of fixed-route and all demand-response service is contracted out to private providers in Denmark.
Collaboration, partnering, and efficient resource use are all essential keywords in the public mobility sphere. FlexDanmark has shown one way of putting all the intentions into real-life — could this be a future vision for public mobility in the U.S.?
Paul Comfort is VP, business development with Trapeze Group.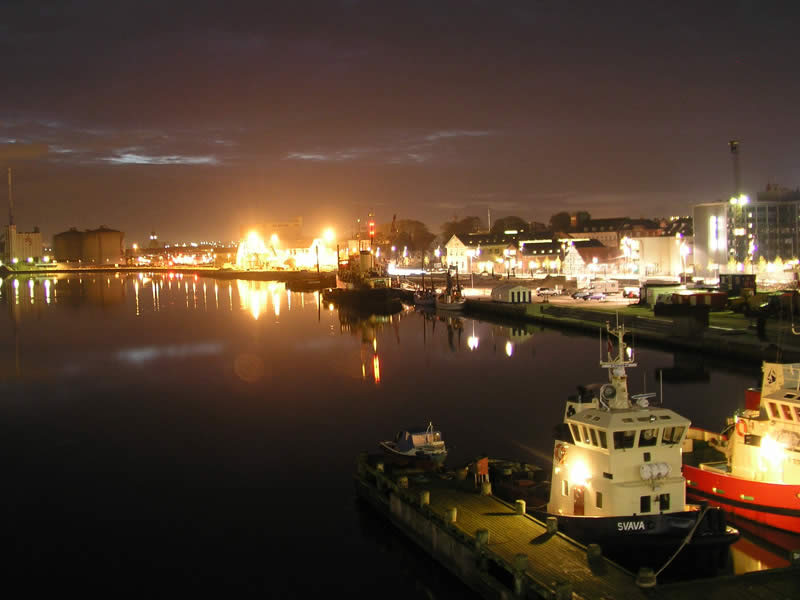 (c) 1999 – 2019 Trapeze Software ULC. All rights reserved
Trapeze Group respects your privacy