UK and Beyond: Comparing British Transport with Global Networks
(This article first appeared in CBW, 6th August 2019, Issue 1405)
I recently spent a week in the UK visiting top public transport leaders to learn how they approach the increasing demands for mobility in their nation.  After speaking with them and touring many of their operations, I identified some commonalities and key differences with how things work in North America and around the world.
Deregulation
While people in the UK are obviously very familiar with its deregulated approach to public transport (outside London), from an American perspective it seems radical. In the US, all bus routes are subsidised by the government or relevant transit agency and most often they are run directly by the transit authority union drivers. Only paratransit is widely outsourced, and the occasional commuter bus or rail service.
Similarly, the model I encountered in Scotland is very different to what we would see in the US. In Glasgow, private bus companies pay Strathclyde Partnership for Transport (SPT) for the right to pick up and drop off passengers at their large Buchanan Bus Station; whereas in America, buses are operated by the government.
Ridership Trends
One area of commonality is the challenge of ridership levels. While bus ridership in the UK has seen a general decline in recent years (like in North America), First Group's Giles Fearnley told me of some cities where ridership has been on the rise. For example in Bristol, bus ridership is up over 40%. According to Fearnley this is due to updated bus networks that provide better connections to jobs and shopping and increased bus frequency and the addition of bus-only lanes and improved technologies that have reduced the friction buses experience in the central business district – with heavy traffic congestion bus speeds have been as low as seven miles per hour.
It is similar in the US, where redesigned bus networks, higher headway frequency, and reducing friction of routes by adding bus only lanes, transit signal priority and tap and go or off bus fare payment are the main approaches that most cities in the United States that have seen increased ridership over the past year are using. Transit systems in Seattle, Pittsburgh, Houston, Austin, San Antonio, Detroit, and Las Vegas all reported ridership growth in the 2018 National Transit Database (NTD) reports.
Innovative London
In London, two key TfL innovations have led headlines: the cashless fare system in 2014; and now contactless payments and fare capping across the network.
TfL's Simon Reed believes public transport's future is changing quickly. He asserts that we have already moved to a post-app world where new single function smartphone apps are losing their appeal. But he does believe that transit agencies need to get passenger information to our riders through their favorite online platforms and apps. Imagine that someone purchases a movie ticket through an app or an online portal like Google. After the ticket is purchased that same app would then show the public transport options available for them for the time of the movie showing they chose instead of forcing them to go to a separate public transit app.
Integrating public transit passenger information into other apps would focus on what's easiest for the rider but contrasts the current movement toward separate Mobility as a Service (MaaS) apps. Reed also feels that public transport authorities need to do a better job of getting route disruption information to passengers – like map/direction driving apps show congestion and accidents and recommend alternative routes. This type of information could be used to specialize different transport services based on real-time demand. For instance, perhaps some lesser-used routes could run more on a demand response style where a vehicle only comes once there are at least four passengers at that stop.
These are very innovative ideas on a global level. And it is interesting to note that while everyone in the US is focused on MaaS, TfL is thinking a different approach.
Learning from Each Other
Whether it is letting private transport companies come in and create public bus routes, contracting out more service, eliminating cash as a payment option, redesigning your bus network, or changing your thinking about the avenues to provide transport information to people (included within other apps), North American transit authorities have much to learn from public transport leaders in the United Kingdom.
Let's hope we can all learn from each other to better provide safe, efficient, reliable public transport with world-class customer service around the globe.
========
Information for this article was taken from interviews with the following six transit leaders:
Dave Pearson – Director, Transportation Services of West Yorkshire Combined Authority
Paul Cox – CFO of Tower Transit
Giles Fearnley – Managing Director UK Bus for First Group
Gordon Maclennan – Chief Executive at Strathclyde Partnership for Transport
Lewis Brencher – Director of Communications at Transport for Wales
Simon Reed – Head of Technology and Data, Surface Transport at Transport for London
Each of these transport leaders appears as guests on the Transit Unplugged podcast:
Subscribe for free at www.transitunplugged.com.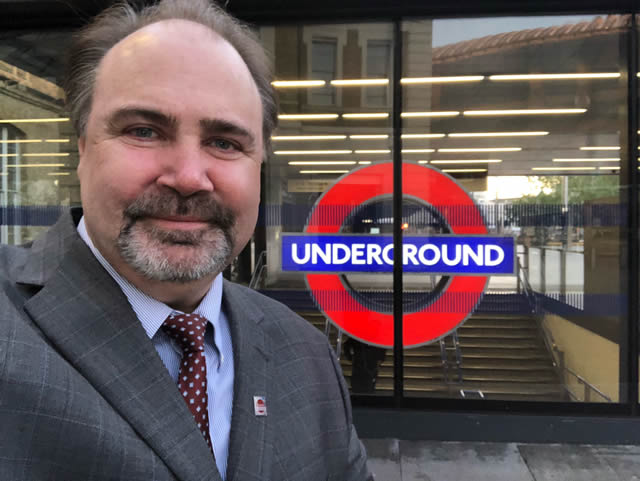 Paul Comfort, host of the Transit Unplugged podcast and former CEO of Maryland Transit Administration (MTA) in Baltimore, recently visited the UK to interview transport leaders for his podcast. Here he outlines what he learnt and compares UK public transport with the rest of the world.
(c) 1999 – 2019 Trapeze Software ULC. All rights reserved
Trapeze Group respects your privacy