A Brighter Future for Demand Responsive Transport
UK local authority budgets are under pressure as never before – this much was depressingly illustrated when Northamptonshire recently revealed it is close to effective bankruptcy due to rising demand in adult social care services. Sadly this is far from an isolated incident, given the situation in Greater Manchester, to name just one recent example.
While public sector organisations strive to undertake all possible savings, providers of Demand Responsive Transport (DRT, including Special Educational Needs and Adult Social Care) services appear to be stuck between the proverbial rock and hard place; beset by a perilous combination of increasing demand (exacerbated by an ageing population requiring increased mobility support), and budgetary cutbacks.
Is there a solution? In this article we review the issue, and outline a possible path to success.
Cost Considerations #1: Booking Administration
Given the current economic climate, embracing a self-service agenda appears not so much a good investment, as essential for survival. This type of approach is proven to save time (Worcestershire County Council reduced calls by 57% in the first summer alone), and is also increasingly popular with users: a report in 2015 by customer service company Parature found 90 per cent of consumers expect organisations to offer a self-service support portal, with almost half of respondents saying they looked more favourably on brands or organisations offering responsive self-service.
And according to Gartner (leading IT research and advisory company), by 2020 consumers will manage 85 per cent of their relationships with brands without ever interacting with a human.
One interesting consideration here is that in many instances the 'cost' saving associated with self-service may not only be measured in pounds and pence: often the 'opportunity cost' can be even more powerful. As organisations such as Leeds City Council have discovered, staff can be far better utilised than by taking phone calls and administering bookings on behalf of passengers.
Cost Considerations #2: Late Cancellations and No-Shows
DRT transport providers struggle daily to manage late cancellations and no-shows. Cancellations have historically been difficult to address, but the scale of the issue – and dire financial climate – have created an environment in which this issue can no longer be avoided. On-the-day cancellations result in empty seats, reducing efficiency and wasting precious resource. And of course, no-shows are even more costly.
The obvious question is why this problem has not been addressed already. There are three answers to this: Firstly, the true scale of the problem is often unknown, since while no-shows may be fairly simple to measure, the efficiency impact of on-the-day cancellations may not be quite so easily calculated. Secondly, many transport providers aren't aware of the extent to which this problem can be tackled. And thirdly, cancellations have simply become accepted as part of the landscape; an unavoidable by-product of delivering demand responsive transport.
Broader Perspectives: Tackling No-Shows in the NHS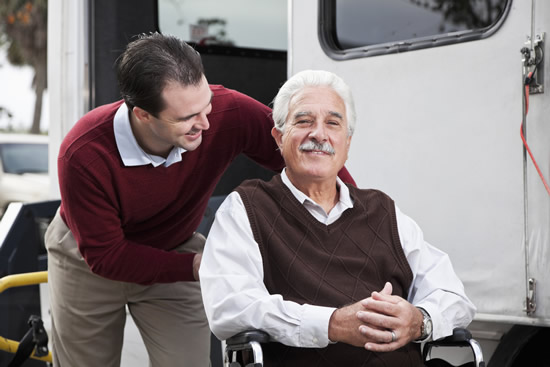 An obvious comparison can be drawn with the National Health Service, where the current funding crisis is compounded by no-shows (usually called Did Not Attends, or DNAs), which cost around a billion pounds each year – almost one per cent of the organisation's total budget.
The NHS has attempted to tackle this through the use of email and text reminders, and empowering patients to check, book and cancel appointments and order repeat medication online. Many pilots and studies have been undertaken in this area, usually with high levels of reported success. In one notable example, an East London NHS Foundation Trust used text message reminders to reduce non-attendance by 43%.
Clearly the NHS still has a long way to go in terms of tackling this issue, though it is interesting to note that the technologies most frequently used – self-service and notifications – show a high degree of overlap with those we are seeing utilised in Demand Responsive Transport.
Getting the Right Message; how Technology is Utilised
In considering parallels between the NHS and Demand Responsive Transport, one of the most interesting discoveries was an intriguing piece of research undertaken by Barts NHS Trust and the Department of Health behavioural insights team.
The trial, which focused on the content of messages sent to notify patients of appointments, found that reminder messages that mentioned the specific cost impact of non-attendance, had a significant impact on levels of missed appointments. The message which proved by far the most effective stated:
We are expecting you at St Barts Hospital on Sep 26 at 2.30. Not attending costs NHS £160 approx. Call 02077673200 if you need to cancel or rearrange.
Given widespread public awareness of local authority transport budgets, it is perhaps reasonable to expect that this type of approach could also be effective within a Demand Responsive Notifications system. A simple implementation might involve inclusion of the specific cost impact within any e-mail and SMS notifications, for example:
You have a trip scheduled for tomorrow: 11:00 – from 216 High Street to Middlegate. Late cancellations and no-shows cost approx. £30. Wish to rearrange? Just reply with "cancel".
Broader Perspectives: DRT in Europe
As a global technology supplier, Trapeze has a diverse customer base all over the world – many of whom have already achieved significant success in managing the cost of DRT service provision. Let's take a look at some notable examples.
In mainland Europe, Christian Erikstrup (Trapeze Group Europe's Business Development Manager for the Scandinavian DRT sector), explains that implementation of self-service booking management portals have had a profound impact: "Typically this type of technology reduces no-shows by around 15-20% – but they have also had the significant side-effect of reducing call centre traffic," he explains. "In one example, a customer in Oslo saw an immediate 40% reduction of call centre traffic. This figure has since further reduced, and is now steady at 60% below its original level."
Indeed, the common message from Scandinavia is that the reduction in no-shows and cancellations is only part of the story. Christian continues: "The model embraced in Norway – which boasts one of the most developed DRT infrastructures in the world – is simple: Enable passengers to self-serve in order to release resource within the call centre. This resource is then reused for improved planning, making it possible to increase overall efficiency (passengers per vehicle per hour); thereby reducing cost."
Traditional Technology Solutions
Technologies with the capability to tackle these issues have existed for several years. For DRT providers, self-service is actually nothing new – and IVR systems have long been able to issue automated phone messages. However, until now they have been held back in two significant ways:
The Usability Issue
Early developments in self-service were hamstrung by a relative lack of user friendliness. Though functional, such systems simply weren't intuitive enough to engender widespread adoption – a critical failing, since the business case was largely based on savings achieved by dramatically reducing call centre administration. But while early self-service technologies were too complicated to penetrate the mainstream, there was another, more fundamental problem: the technology was ahead of its time.
This is because cultural changes occur incrementally, building on previous developments. 10 years ago the principles behind self-service were just as sound as they are today – but people simply weren't ready for them. Now, however, more than a decade of Smartphone and Tablet PC ownership have increased cultural acceptance of consumer technology – and we have all become familiar with online platforms for shopping, banking, licence registrations and more.
In summary: whereas in the past people may have found digital self-service an alien and unwelcome concept; now it is not merely welcome, it is expected.
Complexity and high cost
As with any new technology, early developments in this area tended to be costly, so only the largest of providers could a) afford to invest, and b) expect to see sufficient efficiency improvement to justify it. Furthermore, client notifications especially were incredibly complex to implement, with integration required across software providers, IT and phone system suppliers.
A New Way Forward: Modern Technology Solutions
Traditional technologies show that there is a clear place for solutions that can improve efficiency in Demand Responsive Transport, but they must be affordable, easy to implement, and offer a clear return on investment through cost reductions. Additionally, it is increasingly clear that neither self-service nor notifications can be expected to transform an organisation on their own – they each represent distinct components of a truly cohesive and efficient passenger interaction platform.
In thinking about ways to improve DRT provision, we quickly settled on three key elements: 1) Cost of administration; 2) Cost of cancellations and no-shows, and 3) Quality of passenger experience. The diagram below shows how we see technology supporting this: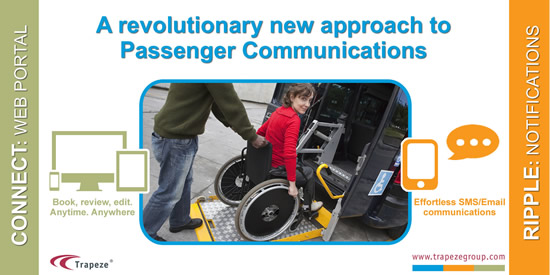 Web Portal & Notifications: Two essential components of passenger communications
The Trapeze Solution
Customers using Trapeze's PASS and Novus-DR solutions will be pleased to learn that both these systems – Connect (web portal) and Ripple (notifications) are available now, and integrate seamlessly with Trapeze's existing technology. And crucially, as Cloud-integrated systems, both can be implemented quickly, easily and affordably – with almost no IT involvement.
Connect empowers passengers to book and edit trips; track their vehicle as it approaches; and even request a pick-up without having to make a call. The system offers passengers a highly personalised experience while reducing the burden on call centre staff. Based on responsive web technology, Connect is a single product that can be used on any device (phone, tablet or PC), with minimal set-up required.
Ripple improves efficiency of demand response services by offering up-to-the minute notifications that enhance the transportation experience for passengers. As well as receiving outbound notices, passengers can call or text to obtain journey information, reducing the strain on office staff. Ripple uses the latest Cloud-based technology to deliver benefits traditionally offered by much more complex and expensive systems, requiring little IT infrastructure or support.
By offering self-service and notifications together as part of a fully integrated solution, DRT providers can now achieve maximum reductions in cancellations and no-shows; reduce admin workload; improve overall efficiency; and offer passengers a consistent 'always on' communications portal. So whether they are booking journeys or waiting for a vehicle, passengers have confidence that the communications channel is in place at all times, wherever they may be.
Conclusion
It is clear that stretched local authority budgets can no longer afford to manage DRT administration at the same level as in the past; or cater for no-shows and cancellations. A concerted effort must therefore be made to address these issues – supported by appropriate technology and best practice learnings from within the UK transport sector and beyond.
As we have discovered in this article, notification systems and self-service portals have the potential to significantly reduce office administration and instances of no-shows and cancellations. Not only does this reduce cost; it can also enable resource to be diverted to improved planning, thereby improving overall efficiency.
And finally, we should of course never forget the passenger. Implementation of these technologies offer passengers improved service levels, empowering them to manage their travel wherever and whenever they wish; and reducing call waiting times.
Used correctly, such technologies also align service users with transport providers; offering passengers the opportunity to do their bit to support the network by cancelling bookings in good time – thereby contributing to a more efficient transport service for themselves, the local community, and transport providers.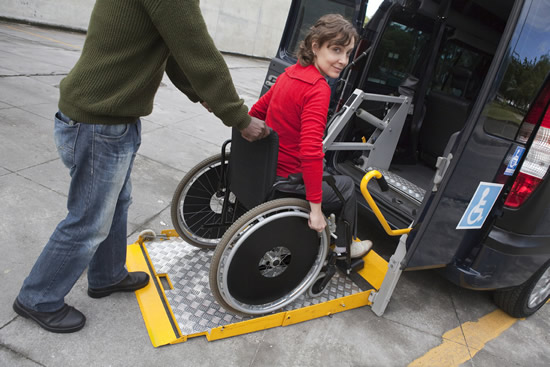 (c) 1999 – 2019 Trapeze Software ULC. All rights reserved
Trapeze Group respects your privacy