It is a challenging time for UK public transport providers. But while many local authorities are having to make difficult decisions regarding transport services for their local community, it is refreshing to hear from an organisation that has been able to increase the quality of services delivered. We caught up with Isle of Man Transport's Richard Cranmer to find out how.
Isle of Man Transport is responsible for all transport services on the island: "We operate the local bus services, steam trains, electric trams, and horse tramways. It's a genuine multimodal operation," explains Transport Projects Manager, Richard Cranmer.
"In 2016 we expanded to take over the operation of all government minibuses, which had previously been run by other departments. We now manage 65 minibuses as well as 69 'big' buses, which has provided an opportunity to review operations, make better use of vehicles and drivers, and make improvements in relation to marginal scheduled services."
At this point it is worth explaining that Isle of Man's transport team enjoys a wider remit than most UK councils: "We effectively function as the government, local authority and transport operator, which means we are able to take a global view and can ensure all three areas are completely joined up," says Richard. "We took the decision to maintain social inclusion as a policy and maintain service levels as far as possible – as a result, we run a number of services which perhaps might not be run in some parts of the UK."
Despite this wider remit, the team of course faces the same financial challenges as other authorities and is under pressure to reduce costs – which is where technology comes in. Having invested in Trapeze solutions for scheduling Special Educational Needs children, the team was able to better understand passenger demand, identifying vehicles running under capacity during quieter periods of the day.
In addressing this issue, the team was also able to look at the range of passenger requirements across a variety of forms of transport, and in July 2018 Isle of Man launched connectPORTS, a premium Demand Responsive Transport (DRT) service connecting residents from the north of the island with the airport.
"connectPORTS was originally launched for passengers who require travel to the UK mainland for hospital appointments. In the past public transport services couldn't get them to the airport in time for their flight and so taxis were the (expensive) norm." Richard explains. "We have begun to carry patients in the same vehicle, while at the same time, spare seats on these services are now being advertised to commercial passengers, maximising utilisation while generating income. It's a premium service with higher fares than normal buses, but still a massive saving on a taxi."
In December the team also launched new DRT services connecting three villages in the north with the town of Ramsey, while withdrawing some poorly used off-peak scheduled services. "The pilot has been a huge success so far," says Richard. "January and February saw a 19 per cent increase in passenger numbers across the whole of the north of the island – we're thrilled about that, and the only change is the DRT."
Additionally, Richard reveals that through this change the team have been able to increase the availability of services: "The village of Maughold used to be serviced by scheduled buses twice a week – now they can access demand response services six days a week."
Richard also notes that these changes have significantly reduced the cost of delivering services: "Our Mercedes Benz Sprinter minibuses run at around 25 miles per gallon, while the double deckers are around eight. So it's a win-win of ridership increases alongside cost reduction," he concludes. "We're not necessarily focused on profit, but the more people who use the system, the more justification there is for the service to run, which we believe is better for all."
Of course, any such change is likely to provoke uncertainty, but Richard and the team worked closely with customers to ensure they had avenues to provide feedback. And while it is still early to see much in the way of empirical data, responses have been positive, with users happy with the changes, finding them useful and convenient.
But perhaps the best story comes via anecdotal feedback: "A passenger came to one of our roadshows and told me it is fantastic because now they don't need to move house," Richard explains. "Facing increasing mobility issues they thought they would have to move to a town, but this service has enabled them to stay in their home for longer."
While this story offers some early validation of Isle of Man's joined-up government thinking from a social inclusion point of view, we are unlikely to have to wait long for more data. Richard and the team are already looking at expanding this approach into other areas, and increasing use of the self-service booking portal. "We have proved it will work; now we've just got to fine tune it. We have our eyes on other areas; it could very easily be rolled out."
Isle of Man may be fortunate in the scope of its operation, but it is impossible not to be hugely impressed by the forward-thinking way they are supporting the community in spite of the financial issues all UK authorities face. It's a fascinating and uplifting story – let's keep an eye on where they go next.
Isle of Man: Trapeze Technology Solution
| | |
| --- | --- |
| Novus-DR: | DRT Scheduling |
| DriverMate: | Driver Communications, AVL and Real-Time Manifest Updates/td> |
| Connect: | Passenger Self-Service Booking Portal |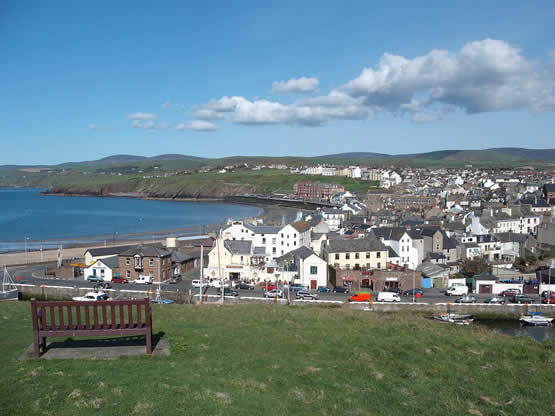 (c) 1999 - 2021 Trapeze Software ULC. All rights reserved
Trapeze Group respects your privacy