The road to success: Perfecting the art of bus scheduling
(This article first appeared in CBW, 19th November 2019, Issue 1420)
What can make or break a bus operator? The buses themselves – quite possibly. The staff – almost certainly. But for most operators arguably the most critical of all factors is actually timetable scheduling.
Scheduling is the framework around which all of a bus operator's activity is structured. Scheduling dictates when and where vehicles and staff are deployed, the service they offer, and how well that service meets the needs of the population.
In short, it dictates the efficiency of the company.
Furthermore, scheduling is rife with misconceptions. And right now a glut of changing circumstances and external factors are causing many bus operators to manage their scheduling inefficiently or ineffectively.
The changing scheduling landscape
To begin, it is important to understand how the landscape is changing, and why this is making scheduling even more of a 'make or break' issue for many operators.
One crucial factor here is the approaching scheduling skills gap. In the past this sector was bursting with scheduling talent, but that is no longer the case. A generation of talented experts is approaching retirement – and too few replacements are joining the ranks. This issue is actually compounded, rather than alleviated, by the growth in specialist scheduling tools and technologies, because to forge a successful career in the sector now you need specific technology skills plus scheduling expertise.
Simultaneously, the breadth and depth of data which schedulers can access– and therefore have to consider when developing schedules – has exploded in recent years. Thanks to the rise of the Internet of Things (IoT) and vehicle telematics, for example, bus operators can now track the location of every vehicle in the fleet in real-time, which in turn enables managers to regulate services, manage headway, and minimise passenger waiting times. Similarly, the speed of buses throughout a fleet can be tracked, both immediately and over longer periods, providing intelligence on which routes are faster or slower, and how they change throughout the day or week.
Integration of bus operator systems with live traffic updates is also now a possibility, enabling intelligent route planning and allowing drivers and managers to anticipate disruption and adjust routes accordingly. And planned disruptions, whether from roadworks or one-off events, are part of a wealth of upcoming environmental and contextual information to which service planners have access, from the likes of utilities companies and local authorities.
All these data sources can be hugely valuable for developing genuinely intelligent, responsive and proactive bus schedules – but they are also highly dynamic and changeable, requiring an equally dynamic and responsive approach to scheduling itself. Moreover, while the growing availability of data provides experienced and intelligent schedulers with the ability to make marginal gains that can deliver serious competitive advantage, the flip side is that those that don't master the data are more likely to suffer as a consequence.
We must also acknowledge wider changes in the transportation sector and how these are changing the bus industry and, by extension, bus scheduling. The franchising model that more transport authorities are being encouraged to adopt in reflection of Transport for London's operations will also increase demand for scheduling expertise, with individual operators and wider transport authorities requiring greater insight into the art. Similarly, advances in automotive technology, such as the rise in electric vehicles, must be considered. The schedulers of the future will need to build vehicle recharging into their models until ranges have substantially improved, bearing in mind the location of charge points and how long this can take. 
The perfect scheduling approach
Given all these changes and challenges, then, what expertise does the sector need in particular?
As mentioned earlier, there has been a dramatic growth in specialist technology to assist with bus scheduling – in particular, powerful, next-generation scheduling algorithms. These are able to draw on the many sources of data outlined above, including mining existing technologies such as GPS trackers in the buses of large operators, consolidating that information and creating an optimal set of timetables, running boards and duties. The best algorithms are able to rapidly process huge volumes of 'what if' calculations in order to develop the most efficient schedule in any place or time – and they are able to take account of dynamic variations in link and dwell times in order to adjust schedules accordingly.
However, this does not mean that the optimal approach to bus scheduling is simply to deploy the right algorithm, sit back and watch your schedules magically appear. There is still an essential role for dedicated human expertise, acting as a link between the advanced scheduling knowledge held by experts, and the algorithms which can undertake vast processing and calculation. Technology alone, without human expertise and experience, cannot deliver the best outcome.
There is an urgent need, then, for bus operators to take on an optimised scheduling approach, augmenting powerful scheduling algorithms with investment in the next generation of highly-targeted human skills and experience which can use knowledge of both the scheduling system and evolving technology to derive maximum efficiency.
As an example, I have been privileged to work alongside a group of the industry's most knowledgeable schedulers over the past six months. This group – accounting for some 300 years of experience from major UK bus operators – is perhaps the most powerful collection of scheduling expertise ever brought together in this country.
Focusing on the shared goal of a healthy future for the vital art of scheduling, we have collaborated on a new vision for scheduling technology: one which places scheduling expertise at the heart of the solution.
In increasingly 'smart' urban transport networks, and with growing public awareness of climate change and the need for the transport modal shift, bus operators have a critical role to play. But in order to compete and thrive, they must balance their scheduling operations.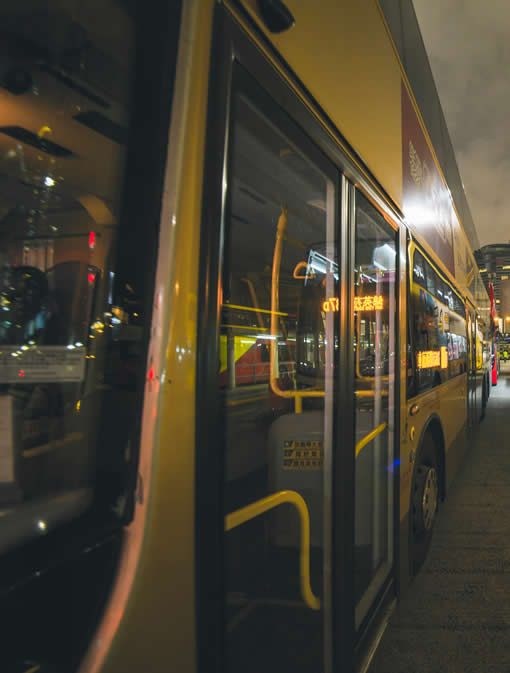 Gavin John (CMILT MTPS) has been working in the bus industry for almost 20 years. Having previously worked as a scheduler himself, Gavin is today employed globally asTrapeze's Scheduling Solutions Manager, where he uses his knowledge of the bus and rail industry and Trapeze's technology to help customers to achieve maximum benefit from their technology investment. Gavin is leading the Novus SchedulePlus development project.
(c) 1999 – 2019 Trapeze Software ULC. All rights reserved
Trapeze Group respects your privacy